Kevin Hayden at American Street links to an article by Don Mayer at Barkings! about his company's health insurance problems. Don writes about the choices that small businesses are forced to make when faced with the ever rising cost of providing health insurance for their employees.
David Ansen of Newsweek reviews Michael Moore's movie, Sicko, and makes an incredibly wrong statement:
Why, Moore asks, in a very funny montage that turns a Soviet musical propaganda movie on its head, do we readily accept free schools, libraries, police officers and firemen but blanch at the idea of free medical service?
Having not seen the movie, I'm assuming that Ansen is characterizing those things as "free," as he makes the same mistake earlier in the article. If Moore is doing it, then Moore is wrong. None of the listed services are free, they are publicly financed. As Ron Paul would say: "there is no free lunch."
June 24, 2007 9 Comments
So everyone went crazy over a denial-of-service attack against Estonia, essentially sites ending with .ee in a country of 1.3 million people and the same language group as Finnish and Hungarian. There were reports in the New York Times, Washington Post, International Herald Tribune, Christian Science Monitor, BBC, The Guardian, Australian Broadcasting Corporation, as well as the the tech press, ZD Net, CNet, Computerworld, Information Week, Network World, PC World, Slate, and Wired.
Now, I miss Shakesville and want it back as soon as possible, but get a grip people, Melissa probably gets as many page views as Estonia, but I don't see the media wandering around asking about the impact of a few days of reduced snark and biting political commentary.
Understand that I know where Estonia is.  I knew more about the Tallinn military district of the Soviet Union than the people who lived there.  My family name is originally from just down the coast in what is the Kaliningrad district of Russia, but was once the original Prussia.
People need to get a grip.
June 24, 2007 7 Comments
Florida License Plates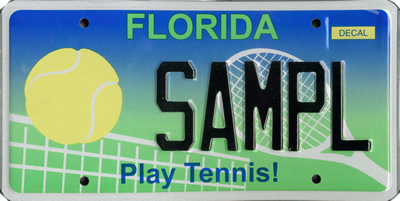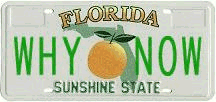 A weekend feature of Why Now.
June 24, 2007 Comments Off on Passing the Plate