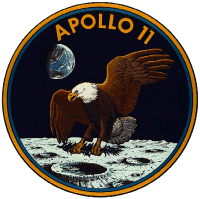 Apollo 11
Commander:
Neil A. Armstrong
Pilot: Columbia Command Module
Michael Collins, Lieutenant Colonel, USAF
Pilot: Eagle Lunar Module
Edwin E. "Buzz" Aldrin, Jr., Colonel, USAF
Launched: 16 July 1969 UT 13:32:00 (08:32:00 CDT)
Landed on Moon: 20 July 1969 UT 20:17:40 (15:17:40 CDT)
Landing Site: Mare Tranquillitatis – Sea of Tranquility (0.67 N, 23.47 E)
Returned to Earth: 24 July 1969 UT 16:50:35 (11:50:35 CDT)
July 16, 2017 3 Comments

Laissac-Sévérac l'Église – Le Puy-en-Velay
Distance: 189.5 kilometers.
The stage starts with category 1 Montée de Naves d'Aubrac and category 3 Côte de Vieurals in the first third, and then category 1 Col de Peyra Taillade and category 4 Côte de Saint-Vidal at the end. There is a rest day on Monday.
Bauke Mollema took the stage win and the Red Numbers with a solo breakaway at the end, while Chris Froome with the help of Team Sky managed to hang on to the Yellow after a rear wheel puncture just before the last category 1 climb left him a minute down.

Christopher Froome ( GBr – SKY – 001 ) [Yellow] 64h 40′ 21″


Marcel Kittel ( Ger – QST – 101 ) [Green] 373 points


Warren Barguil ( Fra – SUN – 143 ) [Polka Dot] 116 points


Simon Yates ( GBr – ORS – 089 ) 7 [White]
Team: Team Sky ( SKY – 001-009 ) [Yellow numbers]
Stage winner: Bauke Mollema ( Ned – TFS – 037 )
Combative: Bauke Mollema ( Ned – TFS – 037 ) [Red numbers]
Top Ten:
1 Christopher Froome ( GBr – SKY – 001 )
2 Fabio Aru ( Ita – AST – 051 ) + 00′ 18″
3 Romain Bardet ( Fra – ALM – 011 ) + 00′ 23″
4 Rigoberto Uran ( Col – CDT – 188 ) + 00′ 29″
5 Daniel Martin ( Irl – QST – 105 ) + 01′ 12″
6 Mikel Landa ( Spa – SKY – 006 ) + 01′ 17″
7 Simon Yates ( GBr – ORS – 089 ) + 02′ 02″
8 Louis Meintjes ( RSA – UAD – 061 ) + 05′ 09″
9 Alberto Contador ( Spa – TFS – 031 ) + 05′ 37″
10 Damiano Caruso ( Ita – BMC – 042 ) + 06′ 05″
The Rest of the Top 30:
[Read more →]
July 16, 2017 Comments Off on Le Tour 2017 – Stage 15