The BBC reports Florida shooting: State lawmakers pass gun control measures.
Actually the Florida senate passed several measures: the age to buy any gun was raised to 21 and there is a 3-day waiting period for all guns; the sale or possession of "bump stocks" is illegal; and teaching personnel are exempt from the new armed school marshal program. The marshal program requires local school board approval.
This still has to pass the house and be signed by the governor. Marion Hammer is probably having a fit, but this is a tiny move in the direction that the legislature needs to take.
March 6, 2018 Comments Off on Better Than Nothing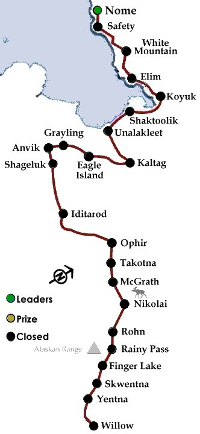 About a third of the teams are beyond the Alaskan Range and beginning to think about their 24-hour stop. The ITC discovered Tara Cicatello in their paperwork so that team is back in the running.
DeeDee Jonrowe has said this is her last Iditarod and she is taking it easy. She may have decided to pick up the Red Lantern. Update: She decided to scratch. She didn't feel she would be able to care for her puppies with her own health problems. Her vivid pink wardrobe will be missed.
Standings at 9:00PM CST:
Beyond Nikolai
1 Mitch Seavey (13)
2 Joar Leifseth Ulsom (33)
3 Ryan Redington (7)
4 Nicolas Petit (46)
5 Aaron Burmeister (64)
6 Wade Marrs (11)
7 Ray Redington Jr (17)
8 Jessie Royer (36)
9 Aliy Zirkle (31)
10 Linwood Fiedler (8)
[Read more →]
March 6, 2018 6 Comments