US Clock Change This Weekend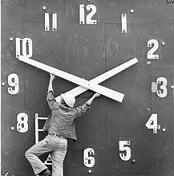 Daylight Savings Time will end in the US tomorrow morning, November 4th at 2AM. It will become 1AM and you get an extra hour of sleep, unless you work the "graveyard shift" or forget.
Most new devices make the change automatically, although many, like my old clock radio, change under the old system and have to be ignored for a couple of weeks.
"Fall back – Spring ahead"