Iditarod 2019 – Day 16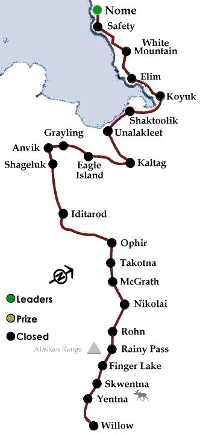 Richie Beattie (50) has been withdrawn from the race following the death of Oshi, a 5-year-old female, probably from aspiration pneumonia. Seemingly this makes Ed Hopkins the rookie winner. Under the new rules, if a dog dies, the team is withdrawn if the musher doesn't scratch voluntarily.
Standings at 10:00PM CDT:
Finished at Nome
21 Ed Hopkins (33)Q
22 Martin Buser (21)
23 Aaron Peck (47)
24 Charley Bejna (31)
25 Michi Konno (43)
26 Lance Mackey (44)
27 Jessie Holmes (5)
28 Martin Apayauq Reitan (39)Q
29 Ryan Santiago (49)R
30 Jason Campeau (12)
31 Jessica Klejka (24)R
32 Alison Lifka (37)R
33 Michael Baker (41)
34 Sarah Stokey (52)
35 Anja Radano (2)
36 Blair Braverman (11)R
37 Jeremy Keller (48)
Beyond Safety
38 Kristin Bacon (8)
Beyond White Mountain
39 Cindy Gallea (53)
40 Victoria Hardwick (30)RΦ

The Mushers in bold are former winners of the Iditarod, while italics indicates Yukon Quest winners. The numbers in parentheses are their Bib numbers. The small "R" indicates a total rookie, while the small "Q" indicates an Iditarod rookie who has completed a Yukon Quest.
These are the official standings. That means they are official, not that they are correct. Things jump around a lot as people decide to update the standings. This problem is especially bad in the back of the pack, as no one bothers to update those standings when the lead is changing.
This post will be updated during the day, and the map changed on all posts to reflect the current situation.
All posts on the Iditarod can be seen by selecting "Iditarod" from the Category box on the right sidebar or clicking on the Sled Dog graphic.