First Bobby Bowden "decided to retire" as the head coach of the Florida State Seminoles, and now Urban Meyer is stepping down as head coach of the Florida Gators.
A couple of nice $2+ million/year job openings in the state, but both going out in December will certainly give rise to conspiracy theories, especially given the reports of Meyer's heart attack after the Alabama-Florida game.
This means that American-style football will be the only topic of conversation for weeks. I really hate the kicked-puppy looks I get when I tell people I couldn't care less.
December 26, 2009 Comments Off on Speaking Of Plots
This is time it was concealed in the "terrorist's" shorts, so I guess everyone will have to remove their shorts as well as their shoes while going through the line.
The guy's father calls the US embassy and tells them that his son is a whacko and they should do something, but that isn't enough to get his US visa canceled, or for his name to appear on the "Do Not Fly" list. Apparently he needed to go to a peace march to be instantly banned.
Like Lenin, Che Guevara, Osama bin Laden, and many more, this was the scion of a wealthy family who really didn't need to work for a living, so he decided to "save the people". whether they wanted to be saved or not.
We could just throw them in Gitmo after they get kicked out of their first college, or we could tax their family's estate to the point that these worthless idiots would need to find a real job, and wouldn't have time to foment revolutions, or save "the poor ignorant lower classes".
After this latest attempt it is rather obvious that they need to send these clowns to a cooking class, where they would learn the importance of following directions, gathering the proper ingredients, accurate measurements, and monitoring temperatures during the process.
The good news is that this clown has apparently withdrawn his name from the gene pool with his creation of lap flambé. [OK, guys, go ahead and wince]
December 26, 2009 12 Comments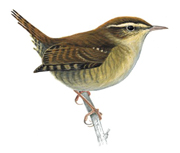 While December 26th is celebrated by a lot of people in the US in shopping malls returning gifts or taking advantage of inventory clearance sales, there are other celebrations.
It is the first day of the Kwanzaa celebration, which is explained at the link.
It is Boxing Day, a celebration of noblisse oblige when the upper classes bestow gifts on the lower and the contents of the poor boxes are distributed. Under the feudal system this was part of the "contract," the mutual system of obligations that tied the system together.
As the feast of St. Stephen it honors the first Christian martyr, but Ireland's Saint Stephen's Day celebration is a bit different and is the reason for the wren on this post.
However, this post is really my complaint about "Good King Whatshisface."
December 26, 2009 Comments Off on Happy Sales and Returns Day