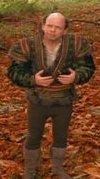 'Noz has given a Vizzini Award, Second Class, to the Jerusalem Post for abuse of "hypocrisy".
It is surprising, as you would think that the Jerusalem Post would be more familiar with the meaning than any media outlet not owned by Rupert Murdock. 😈
June 9, 2010 13 Comments

Of course they imagined it, and they wrote a report about it, because there are a number of groups within the government, not to mention the "think tanks", who do nothing else.
McClatchy tells us: Feds knew of Gulf spill risks in 2000, document shows
WASHINGTON — A decade ago, U.S. government regulators warned that a major deepwater oil spill could start with a fire on a drilling rig, prove hard to stop and cause extensive damage to fish eggs and wetlands because there were few good ways to capture oil underwater.
The report also discusses the underwater plumes that BP continues to insist don't exist, and the dangers of dispersants.
Update: In comments, Kryten located a half dozen different documents on NOAA's web site and others that Dr. Lubchenco really should read to understand how bad things are.
June 9, 2010 3 Comments