The wind from the South and Southwest are continuing to push the oil ashore with tar balls showing up East of Destin which is on the pass into Choctawhatchee Bay.
The situation is much worse in Alabama: Swimming on Alabama's busiest beaches closed by oil
GULF SHORES, Ala. — After large swathes of oil washed up on Gulf Shores and Orange Beach beaches Friday evening and this morning, officials with both cities put out double-red flags warning beachgoers not to swim in the Gulf. The flags remained flying this evening, officials said.
This is a preview of what is going to happen in the Panhandle, and a direct threat to turtle nesting sites on the beaches.
The Mobile Press-Register Editorial Board expresses their frustration with another feature of this response: Hiding from news media won't help oil spill response
WE WOULD like to tell you what was said about the oil spill in meetings among business owners, elected officials and U.S. Commerce Secretary Gary Locke.

But we can't, because members of the news media were barred from Thursday's meetings in Mobile, Biloxi and New Orleans.

Well, OK, a Press-Register photographer was allowed in to take pictures at the Mobile meeting, and there was a photo-op at a bait shop in New Orleans. So Secretary Locke and the Obama administration had no qualms about the publication of photos showing the secretary's great concern for the Gulf Coast.

But a Press-Register reporter who identified himself was not allowed to attend the meeting in Mobile, although he probably could have walked right in if he had taken off his newspaper badge and said nothing.

Where's the transparency you promised would be a hallmark of your administration, Mr. President?
Where is it written that there can't be a frank discussion if the meeting is recorded? Are they aware of the open-meetings laws in Alabama and Florida? By closing the meetings you are denying elected officials the right to participate, because if a quorum of any council is present at a meeting, the meeting must, by law, be open to the public.
Somebody needs to tell these clowns that private meetings about public problems have very negative consequences down here. If people don't know what was said, they will fill the gaps with rumors.
June 12, 2010 Comments Off on No End In Sight
The Trouble Maker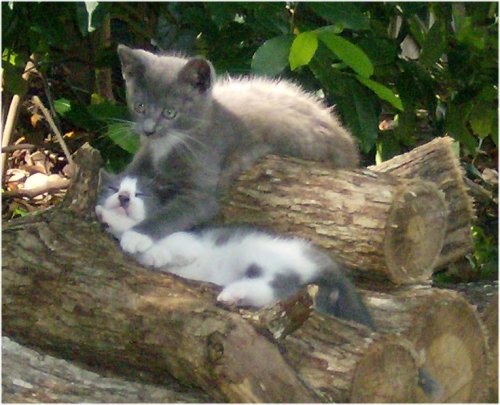 Come on, come on, wake up!
[Editor: This is the reason the momma cat was on the truck, and the proof that the latest KT is a dedicated sleeper. This was taken before the picture on June 4th.]
June 12, 2010 7 Comments

Group A finished the first day with draws all around:
South Africa 1-1 Mexico
Uruguay 0-0 France
Group B had winners and losers:
Republic of Korea 2-0 Greece
Argentina 1-0 Nigeria
Group C action started at 1:30 PM CDT with England already a goal up on the US.
Update: the US equalized, final: England 1-1 US
June 12, 2010 2 Comments