CNN tells us about the effect of the "austerity budgeting": GDP report: Economic growth revised sharply lower
NEW YORK (CNNMoney) — Budget cuts by state and local governments hurt the economy more than originally thought, according to a government release Friday.

Gross domestic product, the broadest measure of economic activity, was revised lower to an annual growth rate of 2.8% in the three months ending in December. The initial reading had been for a 3.2% growth rate in the period.

That's a surprising dip, given that economists were expecting the rate to be revised upward to 3.3%.

Lower state and local government spending was the main drag, falling 2.4% during the quarter, compared to a 0.9% drop originally reported.
Since the business sector isn't spending, but is sitting on trillions of dollars in cash, while the government is slashing its spending, welcome to the double dip.
The only entity that can spend in this situation is the Federal government, and they are getting ready to slash spending. The economic answers are clear, and we know that they work, but politics and the money class are stopping effective action from being taken.
February 25, 2011 7 Comments
From the TV New Zealand Live Updates for Day Five:
3:15am Recap
USAR has completed its initial search of the CBD except for the cordoned off area near the unstable Grand Chancellor Hotel.
The number of missing is 226 with a confirmed death toll of 113. The names of six victims have been released.
80% of Christchurch homes now have power.
They are shifting to the recovery phase, as the chance of finding anyone in the rubble is fading with every hour. They still can't go near several buildings because they are sinking in the quicksand beneath them.
They are starting to form groups to clear debris by hand because it isn't certain where the ground will support the weight of large machinery. Some structures have already been taken down, because they were too unstable in their post-quake condition, and the aftershocks are continuing.
February 25, 2011 Comments Off on Christchurch Day 5
Role Reversal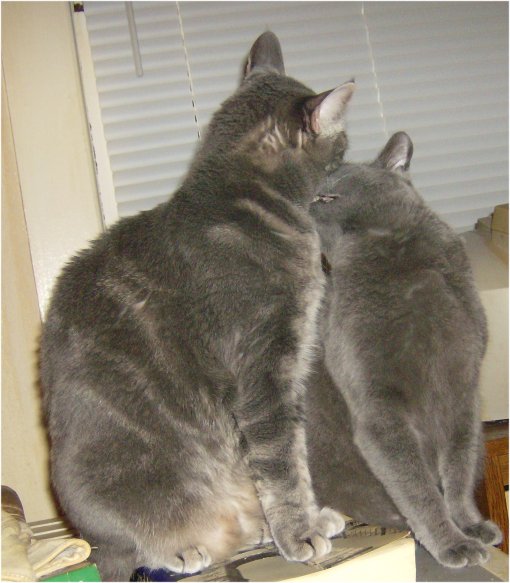 Stand Still, Mother!
[Editor: This is Property washing her mother's face. She is sitting on a phone-book-thick manual to do it, because they are pretty much the same size now. The pair don't usually get along, so this is unusual.]
February 25, 2011 15 Comments