Friday Cat Blogging
Income 04/15/2007-07/10/2011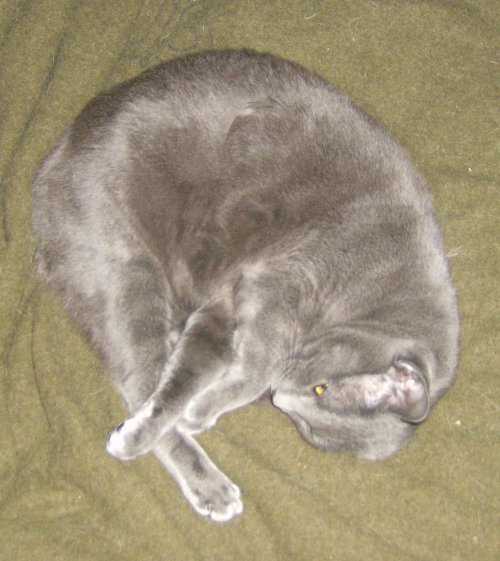 A lot of things have gone wrong this week, but far and away the worse was returning to my house on Sunday night to find Income laying on his side in the computer room.
There was no indication of any trauma, he was laying as he often did to 'sucker' his brother or sister into attacking him. He had been totally normal, and was racing around when I left the house. It was sudden, possibly a heart problem that had never showed up in the vet checks.
The picture shows the iridescent quality of his coat that would vary from bright silver to slate depending on the light, like Ringo's, but you had to stroke him to know the silky, velvet feel of that coat.
I knew the feel of the coat because my morning routine included moving him to sit down in my office chair. Sometimes he would jump on the keyboard shelf, blocking the screen, while other times he acted as my copilot, crammed between me and the armrest.
The office chair wasn't just for sprawling, he also used it for bathing.
He loved high places, like the top of cabinets or bookcases. He got there with tremendous leaps. He would leap from the floor to the top of the bathroom door, getting high enough to grab the top and haul himself up.
He had a long and lanky form, a head taller than his Mom when they sat together in the classic 'Bast' pose.
It isn't easy finding my chair empty in the morning.