The Federal free Covid tests site is up and working. You provide your name, e-mail address (optional), and address to receive 4 at-home rapid antigen tests. Locally that would cost you just over $50. Depending on your typing speed it takes 1 or 2 minutes.
Even if you can afford to buy them, get them and pass them on to someone you know who needs a test. The test takes about a half hour. It's worth the piece of mind of knowing. The PCR tests are most definitive but if you can't find a free site site the test costs $90 to $120 and takes days to get an answer.
Many Australians believe Prime Minister Scott Morrison is incompetent, while many Floridians believe Governor Ron DeSantis is evil. Let's compare Scomo to DeMentis…
Two tweets from Dean Obeidallah (@DeanObeidallah)
Australia compared to Florida:
As you read about Australia deporting Novak Djokovic for not getting vaccinated keep this in mind: Australia is a country of 25 million and only 2,670 people have died of Covid. Florida is 21 million people and OVER 63,000 people have died of Covid.
Florida vs the average and Florida vs New York:
BTW in 2021, Florida saw 190 deaths per 100,000 from Covid totaling nearly 41,000 dead, well above the 144 per 100,000 national average and far worse than New York's rate of 107 dead per 100,000 that totaled 21,000 deaths. (this is only 2021 since vaccine) source
.
Thanks to a friend, I was able to obtain an at-home Covid-19 test and am currently adjudged to be negative – I got a C line but no T line on the test. I've been feeling better, but don't want to take chances.
I'll continue my practice of wearing a mask when I'm around people. There are people who suggest that having the Omicron variant doesn't provide long term protection against getting it again. Why take a chance?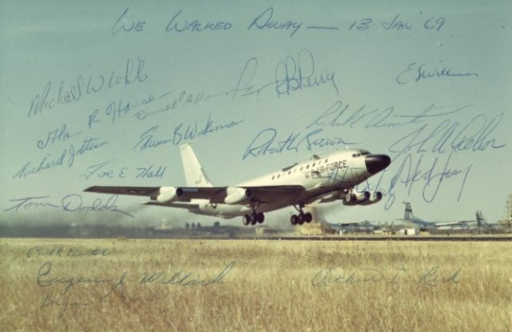 Fifty-three years ago, in the early hours of January 13th, 1969 I was forced to accept something that I had known for a while, but had pushed to the back of my mind: I was mortal and was going to die.
This was the first of several incidents when my chance of survival was a good deal less than 1 in 2. This wasn't the scariest, but it was the first, and following on the heels of the terrible events of 1968, it had the biggest impact.
In the end the only "death" was an airplane, Rivet Ball, the Air Force's only RC-135S. The military version of the Boeing 707, the fuselage broke in half, like an eggshell, on impact. A very talented pilot, John Achor, the aircraft commander, was responsible for that miracle.
I provide more detail on my other site.
So, 'tattletale' Gaetz is sucking up to DeMentis by claiming that
the "30A Songwriters' Festival" that is funded in part by Walton County Tourism, is imposing a vaccine mandate and dissing 'Big Ron'. Gaetz, naturally didn't ask anyone associated with the Festival, a major cultural event in Walton County, what was going on. There is no vaccine mandate. Like most festivals you need a vaccine or a negative test for admittance. If you're a singer/songwriter in folk/country/bluegrass/blues this is a place to go to network and get noticed. People like Emmylou Harris, Dar Williams, Kathleen Edwards, Mavis Staples, Patty Griffin, Rickie Lee Jones, Steve Earle are playing this year.
Meanwhile, one of Matt's ex-girlfriends is talking to a Grand Jury about trafficking under-age women. This is the quality of representation I have to put up with.
I think I have discovered the proper tunnel and spotted something that might be a light at the other end. This has been going on for two weeks already and is getting really old. The symptoms became noticeable on January 1 and have altered every day. I will attempt to get another test on Wednesday so I can feel confident in leaving my isolation.
The new standards for isolation don't match my experience. If I get a negative test I will still be masking. I've had it once and really don't want to chance getting it again. It wasn't as bad as the flu or bronchitis, but it lasted twice as long. As soon as I feel better I need to replace my hurricane supplies.
Newt Gingrich was paid by the state of Georgia to teach history so he has read more of Lincoln's Second Inaugural Address than the last paragraph. The next to last is a dose of reality.
"… Fondly do we hope ~ fervently do we pray ~ that this mighty scourge of war may speedily pass away. Yet, if God wills that it continue until all the wealth piled by the bondsman's two hundred and fifty years of unrequited toil shall be sunk and until every drop of blood drawn with the lash shall be paid by another drawn with the sword as was said three thousand years ago so still it must be said 'the judgments of the Lord are true and righteous altogether.'"

"With malice toward none with charity for all with firmness in the right as God gives us to see the right let us strive on to finish the work we are in to bind up the nation's wounds, to care for him who shall have borne the battle and for his widow and his orphan ~ to do all which may achieve and cherish a just and lasting peace among ourselves and with all nations."
Forty-one days later Lincoln was dead from an assassin's bullet and it was a decade before Federal troops left the South.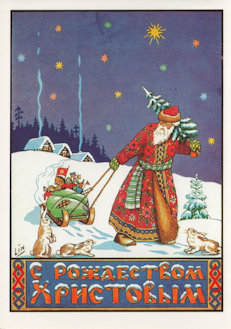 С Рождеством Христовым to my Orthodox friends who are still waiting to see how the calendar reform works out.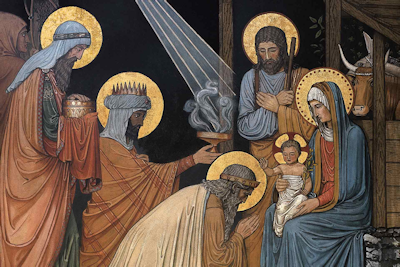 Today marks the Feast of the Epiphany and Día de los Reyes in Spanish-speaking countries.
This is the customary day for gift exchanges in many Christian cultures because it is the day that the Magi finally arrived in Bethlehem with their totally inappropriate gifts after putzing around for a week and a half because they didn't want to ask for directions.
[Give me a break! They bring soft metal, smelly tree sap, and bitter medicine associated with embalming to people who could use a hot meal, baby clothes, and diapers.]
I was symptomatic starting on Saturday. I'm still waiting for the doctor to get back to me. The home tests are missing from the local pharmacies. This is life under the GQP.
Twelfth Night Update: I got tested this morning and am waiting for the results. My throat isn't sore but I now have a head cold. There are cases popping up of people with the flu and Covid, so I deem myself lucky.
They don't make sense. If the unGovernor's office had said he was taking time off because of his wife's illness or for a vacation no one would have really cared. Instead they lied about it. Then DeMentis brings his wife, who is having cancer treatments, to a mass event where no one is wearing a mask while Covid is running wild.
Florida's Surgeon General Joseph Ladapo stands behind a lectern that says "Early Treatment Saves Lives" and declares testing causes mental health problems. Logically testing would catch Covid early and allow for treatment, rather than waiting for severe symptoms.
Cancer treatments reduce your ability to fight infections. What DeMentis did was dangerous for his wife. What Dr. Ladapo did is dangerous for the people of Florida. What price for the GQP Presidential nod is DeMentis willing to pay – how many Floridians must die for his political ambitions?
Over on the Bluebird of the Trivial (Ok, Twitter) Mig Greengard [@chessninja] wrote –
ICYMI: "Sad news. After years of medical training and hard work, a mate of mine has been fired after one indiscretion. He slept with one of his patients so can no longer work in the profession. What a waste of time and effort. A genuinely nice guy, and a brilliant veterinarian."
In a related note, Congresscritter eMpTy Greene (Q – Georgia) has been banned by the system for multiple violations of the "no covid lies" rule. This was her personal account, not her official Congresscritter account.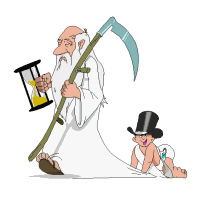 С Новым годом
Prosit Neujahr
Feliz Año Nuevo
Bonne Année
Felice Anno Nuovo
Gelukkig Nieuwjaar
Gott Nytt År
새해 복 많이 받으세요
Blwyddyn Newydd Dda
Onnellista Uutta Vuotta
May you be safe from the idiots who think gravity is just a theory and fire off guns, failing to understand that what goes up will come down.
Given the prevalence of accurate timekeeping devices, it is amazing that the explosions that are supposed to signal the new year extend for hours beginning six hours before and extending well after the actual event. Anyone who thinks alcohol and gunpowder is a recipe for a long life should be avoided by insurance agents.
Last year I wrote:
Well, Trump, whether he believes it or not, was not reelected, but his incompetence left us with medical and economic disasters that will continue well into the new year. With luck we can forget about masks and social distancing this fall and kids can go back to school. I wouldn't bet on it, but it's possible.
It was a losing bet as within a week TFG and his minion army of morons attacked the Capitol to disrupt the official count of the votes of the Electoral College. The minions lie about the vaccines and other methods of controlling the pandemic which is causing the official death count due to Covid to approach nearly 1 million Americans. The real death count is much higher as some Republican officials are assigning deaths caused by Covid to other things to keep their numbers low.
For purely political reasons, the Republican Party is extending the pandemic.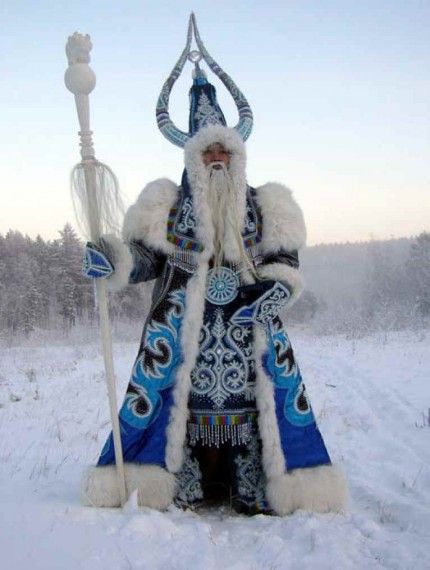 That's Grandfather Frost [Дед Мороз] and he is the Russian 'gift giver'. He is assisted by the Snow Maiden [Снегурочка], but ever the jolly, fun-loving people, the 'gifts' are a bit different. Threats of coal or sticks would be weird to a people who are trying to stay warm, they would consider them welcome.
Generally there are sweets, maybe salo [salted fatback], and other high energy food.
For the 'naughty' list there is the staff. You don't get beaten, merely touched, which turns you into a popsicle. [I told you they were fun-loving.]
Tonight's the night – you've been nice, right?