And I have been busy with Real Life™, as happens from time to time. It is the curse of the blogging class.
The BBC mentioned something I heard in the car – Ukraine violence: US considers sanctions. When I heard the NPR report my first reaction was what makes this any different than what the NYPD did to the Occupy movement in New York? It is hypocrisy to talk about the right to assemble and demonstrate in Kiev after you have ignored it in NYC, Oakland, et al. If you are going to impose sanctions, what about Bahrain?
CNN covered the Mandela memorial 'selfie':
Denmark's Prime Minister Helle Thorning-Schmidt made headlines after snapping a selfie of herself nestled in between UK Prime Minister David Cameron and U.S. President Barack Obama at Mandela's memorial service on Tuesday.
From the picture accompanying the article I got the impression that Zero was going to hear about his conduct from his wife.
The Repubs are venting their rage over Zero shaking hands with Raul Castro. Mr. Mandela had good relations with Cuba and support from the Castros, so it would have been rather churlish not to shake hands.
I guess Zero should have taken lessons on how to conduct himself at solemn events from a Republican.
Our current US government, every branch, is a collection of fools and knaves. The latest budget deal just about guarantees a repeat of the 1937 recession, for exactly the same reason.
They already sliced $5 Billion out of food stamps, and now they are going to let the extended unemployment benefits expire at the end of the year, both of which have/will reduce demand, and cause more unemployment.
This deal requires Federal workers and the military to pay more into their retirement accounts, effectively cutting their pay, and providing another decrease in overall demand.
The basic problem is a lack of demand for products and services, and the government is acting to reduce it even further.
While I'm covering the ignorance of the government I would like to point out the origin of the social safety net. It did not arise from the socialist movement, it came from the military-industrial complex in the late 19th century, pushed primarily by Otto Fürst von Bismarck-Schönhausen, Chancellor of the German Reich.
The Iron law of wages asserts that real wages always tend, in the long run, toward the minimum wage necessary to sustain the life of the worker. While trying to determine that level it has a tendency to spend more time below than above that level, like the Federal minimum wage. Otto discovered he couldn't field a decent parade, much less a respectable army from the German workers, as only about 1 in 10 was in good enough shape to turn into cannon fodder. He got health care and later unemployment insurance enacted so he could go to war if necessary. The British government picked up the concept for the same reason.
The socialists adopted the concepts, but they arose from national security concerns, not 'bleeding-heart liberals'. If we attempted to institute the draft again in the US, we would be faced with the same situation as Otto.
In his last comment before wandering out into the wilderness for a few weeks to clear his mind and recharge, Kryten mentioned a holiday promotion by SoftMaker.
If you go to their "Load and Help" 2013 site and download free software until Christmas Eve the company will donate money to charity. The rate is € 0.10 [about 14¢ US] per download.
They have an office suite, FreeOffice, available for Windows and Linux boxes, and some Holiday fonts for Windows, Linux, and Mac.
You provide a name, e-mail address, and country, so they can send you the registration details.
It is marketing, of course, but not as obnoxious as the last thing I bought on-line showing up in an ad at half the sites I visit. [I bought it, you tools! I don't need to see it again, OK?!]
Channeling the Grinch, the conservative prime minister of Australia has threatened to keep the Parliament in session through Christmas if they don't pass his legislative agenda.
Mr. Abbott did not win a majority in recent elections, so I don't think this is going to be the threat he thinks it is, but it is certainly a useful bit for the 'loyal opposition' to talk about with their constituents.
Via Avedon Carol, a collection of wonderful pictures of real snowflakes.
Because the Republicans have gone totally 'Hoover' and are attempting to out-source the social safety net to Scrooge & Marley, I've made the decision that my entire Christmas list will be C2C, i.e. cash to charities. Because of what happened to the WIC program under the shutdown, and the food stamp program November 1st I'm sending to groups that feed children on a continuing basis. It makes no sense to me to give people good Thanksgiving and Christmas dinners when the need is there year round. This should be covered under 'promoting the General Welfare', but some people don't seem to be able to read anything that doesn't directly benefit themselves.
The seventy-second anniversary of "a date which will live in infamy…"
The official US Navy site on the Pearl Harbor attack.
There will be a memorial service aboard NAS Pensacola that normally features local survivors of the attack. Obviously there are fewer of them every year.
They have their own license plates, but few can still drive: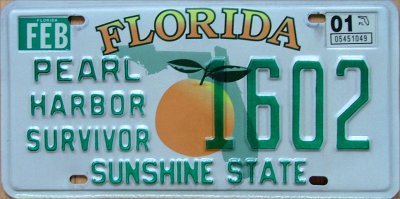 Mustard Ladybug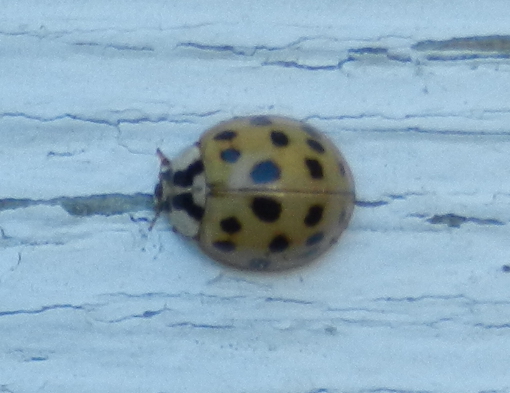 I'm not what you think, really!
[Editor: This Coccinellidae variant is headed for the roses and I wish it bon appetit.]
Froggie in Isolation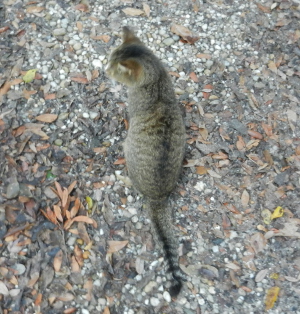 Hello …?
[Editor: Froggie is the only cat out about. There is another front due through so everyone is preparing for the chill to come.]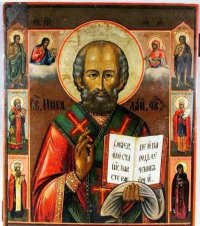 Yes, it is the day that kindly old Saint Nicholas fills the footware of good little girls and boys with treats [or his assistants beat the evil out of bad children, depending on the local customs - they didn't just leave the sticks - in some places they use them.] Don't forget the carrot if he rides a horse in your area.
He is the patron saint of Russian merchants and pawnbrokers (three gold balls are one of the symbols associated with him).
Badtux asks the basic question: Do 'the rich' create jobs?
MalWart is recognized as the world's largest retailer, and is worth billions. If you read about Sam Walton and the building of his company, one of the things you will learn is that Wall Street wasn't involved until after it was already a rapidly expanding empire. The 'initial stock offering' was Sam Walton selling stock to friends and neighbors, not a big bell-ringing ceremony involving investment bankers.
After a market downturn, a journalist asked Sam Walton what it was like to lose a billion dollars. He replied that he didn't lose anything – that money never really existed. A lot of people learned that lesson during the global meltdown when their 'million dollar house' lost its value almost overnight, as did their 401K.
'The rich' aren't investors, they're gamblers, Wall Street is one of casinos they frequent. The only thing they actually invest in are Treasury bills. Of course the Treasury bills could be used to create jobs repairing infrastructure, but the political parties don't want to do it.
The BBC reports on weather: European storm and tidal surge cause evacuations and travel chaos.
Just a winter storm with winds up to 142mph [228kph] in Scotland, the surge gates on the Thames, and in the Netherlands were closed to reduce flooding from the wind-driven tidal surge. Trucks blown off roads, trees uprooted, thousands in the dark — just a winter storm.
Not much different than a major hurricane … except it is cold to make people even more miserable.
The ABC article on Amazon drone delivery project discusses the general privacy unease that drones cause in the US, which has ratcheted up since the Snowden revelations.
Knowing my local community, the discussion will be about how much gun you need to take one out. Obviously a 10 gauge shotgun with a 36-inch barrel will do the job, but it is too much gun? Then there is the selection of pellet size and spread pattern. These things are important to real hunters.
I don't see drone delivery as a realistic system in the US, but there is a company in Australia hoping to use drones to deliver text books to isolated settlements, if they can get flight clearance.
Personally I'm against drone flights in the US because of flight safety issues. Even the remotely piloted drones used by the military lack the situational awareness necessary for collision avoidance in crowded airspace. I was in entirely too many incidents when flying out of Offutt AFB in Nebraska involving collisions with geese, to wish anything heavier and harder be added to the airspace that lacks the ability to sense a threat and get out of the way.
Both Atrios and Charlie Pierce decided to notice what a total schmuck Chuck Schumer is today.
Since LIEberman finally left the Senate, Schumer has assumed the leadership of the Likud caucus in the Senate. While he is nominally a Senator for New York State, he only cares about the interests of Wall Street and Israel's Likud.
If the New York Republicans had a functional party, Schumer would have been gone years ago. He will not do anything that upsets his masters, no matter how much it might help the people of New York State.
In the discussion about the Pope's negative comments regarding supply-side economics I mentioned the old saw about 'a rising tide lifts all boats', so Badtux looked at the numbers:
According to U.S. Coast Guard statistics, there are 16,824,000 boats in America. According to the U.S. Census Bureau, there are 114,761,359 households in America. What that means is that 14.7% of households benefit from a rising tide.
It is a good fit, because only about the top 15% of households are prospering or holding their own in this economy. The rest of us are treading water or sinking.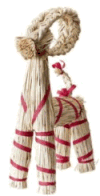 Once again, Why Now? is pleased to present the link to the webcam of Gävlebocken, The biggest Christmas Goat in the world [now with a blog].
From Steve Bates of Yellow Doggerel Democratic Views in the comments from 2006:
Why build a giant goat of straw,
Which most of us would scarcely note?
Some, though, defy the very law,
To vandalize the Gävle Goat.

In some years, they used wayward cars;
In others, flaming arrows smote.
This year's survives, although with scars…
A fact that gets some people's goat.

A webcam and some watchful eyes,
A flame-retardant second coat,
Should save it… unless Dubya spies
The thing, and claims it's his pet goat!

- SB the YSS