The Republicans invited him. The Republicans gave him standing ovations. He refused to talk to Senate Democrats. This was obviously a speech for Republicans.
Here's link to the Official Israeli transcription of the speech.
He's has been giving a variation on this speech since 1992, and Iran still doesn't have nukes. Iran signed the Nuclear Non-proliferation Treaty, Israel has refused. Iran doesn't have nuclear weapons and has UN inspectors monitoring its nuclear program. Israel has nuclear weapons, and no one gets to monitor anything.
Netanyahu's concept of negotiations is that he won't engage in them unless the other party agrees with him on all of the issues involved. He will then send a representative to the signing ceremony. He will keep the agreement until he feel that abandoning it is better for him politically. He doesn't talk to people, he bombs them.
The CBC reports on Alaska's Denali National Forest's newest artist in resident: Polar ice loss 'painful to see' for photographer Camille Seaman.
The National Weather Service reports on a new Rochester, NY Record
February 2015 was the coldest calendar month on record with an average temperature of 12.2°F which is an astounding 14.2°F below normal. This breaks the previous record of 12.6°F set back in February of 1934.
If you live in the state of Florida and are not part of the 1% hide the women, children, dogs, livestock, and wallets because the legislature is back in session for their annual 60 days of lunacy.
Expect to see more 'tax breaks' for the wealthy and big business while the 'fees' paid by everyone else are increased.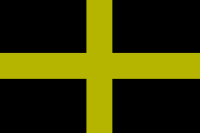 It's Saint David's Day, and, as he is their patron saint, it is a national holiday in Wales. The Welsh wear leeks or daffodils [called Peter's leek in Welsh] on this day.
The BBC reports that Russia opposition politician Boris Nemtsov has been shot dead. Vladimir Putin has personally taken control of the investigation to find that he didn't do it, and it was the work of Islamic, probably Chechen, extremists.
Meanwhile Canada has decided Veterans will only need to verify lost limbs every 3 years, instead of annually. The change was made, no doubt, after discovering that none of the limbs reappeared in a year.
Program Note: Your occasionally humble blogger will be involved with making changes to some old software on another machine that is not connected to the 'Net. No idea how long it will take, so things will be hit and miss.
Wide Load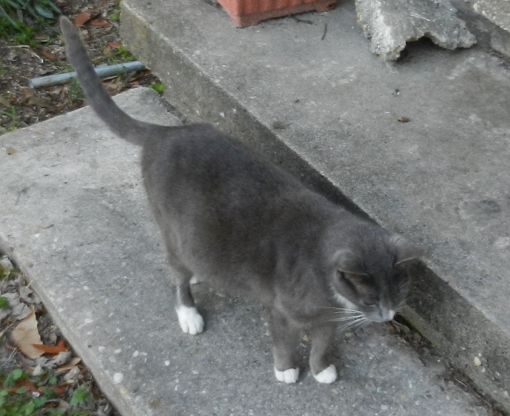 I need a drink…
[Editor: Ms Underhouse has a kitten bulge.]
The Friday Ark for lots of animal pictures.
The BBC reports that Net neutrality rules passed by US regulator.
By a 3-2 vote the FCC has declared the Internet backbone to be a common carrier, and subject to FCC regulation. This was brought about by a legal action against the FCC by the telecoms which they won overturning less stringent regulations.
The telecoms have already said they will go back to court to overturn a decision that the judge in their last law suit suggested – declaring them a common carrier, so good luck with that
Of course they will start lobbying Congress for new laws that Obama will probably veto.
They are complaining that they need to be certain of making a profit before they will expand or improve their system. News flash! That would require the US to stop pretending to have an economic system based on capitalism. No one is guaranteed a profit, they have to earn it.
Zero finally did something useful and vetoed the Keystone XL pipeline bill that the Republican rushed through Congress. That doesn't mean that the pipeline is dead, only that the 'process will continue'.
The voters in Chicago have figured out that Rahm Emanuel is not what he appeared to be four years ago and a majority of them voted against him in the recent election. As no one won a majority of the vote, he has been forced into a run-off election.
The BBC has a nice little article, Netanyahu row with Obama administration deepens. I wonder how the Israeli election would go if the US ambassador to Israel was recalled for consultation?
The BBC carries the latest report on this issue: Israel PM 'differed' with Mossad on Iran, says report.
This report is based on leaked cables from the South African intel agency, but it tracks with what the actual intelligence services have been saying for years – Iran has a nuclear program and can in theory create nuclear weapons, but there is no indication that they are actually working on weapons.
Benjamin Netanyahu has been claiming since 1992 that Iran was working on nuclear weapons and would have a bomb in 5 years.
As Badtux has pointed out in the past, anyone with their own source of uranium can build a bomb from scratch in 5 years. The US did it and no one even knew if a bomb was possible when we started.
If Iran was really interested in building a bomb in 1992, they could have bought a DIY nuclear bomb kit from AQ Khan, like North Korea did and done it in less than 5 years.
Iran started enriching their own uranium because the West refused to sell it to them. They started enriching to 20% when their supplier for that fuel, cut them off. All of the steps towards the so-called 'nuclear weapons capability' are the result of Western sanctions. The sanctions have back-fired if they were supposed to stop Iran from developing their own capabilities.
Bibi is basing his claims about Iran on his beliefs, not evidence, and it is time to stop listening to him.
This is a fable attributed to Æsop about a scorpion who wants to cross a stream.
Since he can't swim, the scorpion asks a frog to carry him across the stream. The frog responds 'no way, you'll sting me!' The scorpion persists saying that since they would both die if he did it, there is no chance he would sting the frog.
The frog finally agrees and allows the scorpion to climb on his back. Halfway to the other side, the scorpion stings the frog. As he dies the frog asks why he did it. As he is sinking to his own death, the scorpion replies 'it is what scorpions do.'
In the Australian version, Tony Abbott makes a series of promises to his parliamentary caucus so they won't remove him as leader. Before the ink dries on the vote count not to remove him, he starts breaking his promises because 'it is what scorpions do.'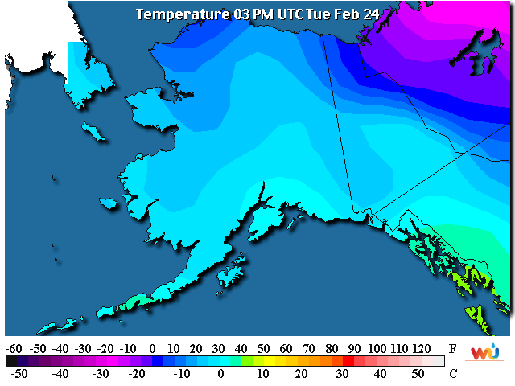 This is the temperature map for Alaska today. There are no temperatures below zero in the entire state with a month to go until spring. These are the 6AM AKST temperatures, not midday.
At 730PM CST it was 45°F in Cinco Bayou, 43°F with light rain in Anchorage, AK, 32°F with light snow in Fairbanks, AK, and -2°F with a wind chill of -17°F in Fairport, NY.
The Iditarod race starts on March 7th with the 11 mile parade, and they are going to have to get a snowmaking machine for that to happen, because there is no local snow to haul in. The actual racing will start on Monday, March 9th in Fairbanks, because there is no snow in southern Alaska.
If you are one of those people who denies the existence of global climate change, I wouldn't talk about it near the Iditarod Trail Committee any time soon. They are a little busy trying to figure out how to have a sled dog race with no snow.
The Awards banquet was held on Saturday in Fairbanks where sixteen mushers received their finishing patches for completing the race. The top fifteen also received some prize money based on their finish.
Rob Cooke of Whitehorse, YT received a patch and the Red Lantern for being the final team to finish the race. Rob blamed himself for the result, saying he allowed the team to work too hard in the extreme cold at the start of the race.
In addition to the patch Damon Tedford of Vancouver, BC received the Rookie of the Year Award for being the first rookie to reach the finish.
Four time champion Lance Mackey of Fairbanks Alaska won the Challenge of the North Award and the Sportsmanship Award for bringing his team of two-year-olds into Fairbanks. He was also given an "Almost Red Lantern" by one of his handlers, after noting that the Red Lantern is the only award he had never won.
Brent Sass's lead dogs, Basin and Sound won Golden Harnesses and steak dinners for their efforts.
Brent took home the winner's purse, the Veterinarians Choice Award, and the Dawson City Award of four ounces of gold for the first musher to Dawson who finishes the race.
The Old Man
What do you want?
[Editor: Ninja, who is at least 15, decided to sun on the grill by my Mother's kitchen window.]
The Friday Ark for lots of animal pictures.