Following the the old saw about "Even a blind hog might find an acorn", when my Congresscritter Matt Gaetz started talking about a "cabal" at the FBI, I thought I would take a look. Now I don't put a lot stock in the blitherings of frat bros, but something was bothering me about the Bureau.
There does seem to be an anomaly in the leadership of the FBI and its predecessors. In the 110 years of the existence of the organization there has never been a Democrat appointed to head the Bureau.
It's time to bring in new leadership with a new philosophy and appoint someone like Eric Scheiderman, the current attorney general of New York. That would certainly refocus the Bureau on catching criminals. 😈
It's that time of year. Spring arrived at 11:15AM CDT this morning, so this is the first full day. You can watch it come at em>Archæoastronomy.
The air is already filled with pollen and the live oaks are dropping last year's leaves. The azaleas have already peaked and the pear trees were snowy with blooms at the end of February..
I would note that locally we have had 12 hours or more of daylight since St. Patrick's Day, and usually do.
Stephen Hawking: Visionary physicist dies aged 76. He was born on 8 January 1942, 300 years to the day of Galileo Galilei's death and died on 14 March 2018, 139 years to the day of Albert Einstein's birth. For the core of his professional life he was the Lucasian Professor of Mathematics at Cambridge University, a position earlier held by Sir Isaac Newton. He belonged in their company.
A major achievement of Professor Hawking was his book A Brief History of Time, a book everyone with any interest in space or time should read. It was written for non-specialists to explain what the Big Bang Theory and other basic precepts of physics are all about. After reading the book you can appreciate his work on discovering the way the universe operates.
Louise Slaughter, microbiologist and one of six scientists in the House of Representatives, died at age 88. Louise represented the 25th District of New York, which is the city of Rochester and most of Monroe County. She has been in Congress for over 30 years and was intending to run again this year. She would have been reelected because she made it a point to actually represent the people in her district.
She was on the county commission when I lived in Rochester, and then ran for the state assembly. She did a lot of good which is why she kept getting elected in a Republican leaning area.
Éireann go Brách!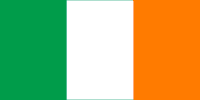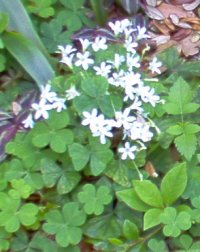 Well everyone agrees that he died on March 17th, but the year is subject to debate. This is his feast day on the Catholic calendar. Enjoy as you are wont.
Wikipedia has more on Saint Patrick's Day, if you need more.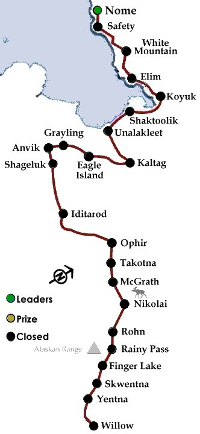 The Red Lantern left White Mountain with Jason Stewart at 4:39 AM CDT at the tail end of the final five teams on their way to Nome.
The Red Lantern was out at 2:13:14PM CDT when Magnus Kaltenborn passed under the burled arch in Nome after 12 days 20 hours 13 minutes and 14 seconds of racing.
52 teams finished, 13 teams scratched, and 2 teams were withdrawn for being too slow.
Standings at 2:13:14PM CDT:
Finished at Nome
41 Lev Shvarts (22)
42 Peter Fleck (67)R
43 Jeff Deeter (45)
44 Bradley Farquhar (65)R
45 Misha Wiljes (19)
46 Tim Muto (42)R
47 Dave Delcourt (57)
48 Shaynee Traska (5)R
49 Meredith Mapes (16)R
50 Jason Stewart (66)R
51 Anja Radano (24)R
52 Magnus Kaltenborn (6)Φ
The Mushers in bold are former winners of the Iditarod, while italics indicates Yukon Quest winners. The numbers in parentheses are their Bib numbers. The small "R" indicates a total rookie, while the small "Q" indicates an Iditarod rookie who has completed a Yukon Quest.
These are the official standings. That means they are official, not that they are correct. Things jump around a lot as people decide to update the standings. This problem is especially bad in the back of the pack, as no one bothers to update those standings when the lead is changing.
This post will be updated during the day, and the map changed on all posts to reflect the current situation.
All posts on the Iditarod can be seen by selecting "Iditarod" from the Category box on the right sidebar or clicking on the Sled Dog graphic.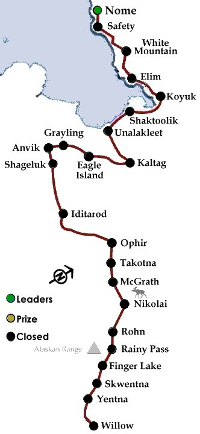 Steve Watkins and Tara Cicatello were withdrawn at Unalakleet passing the Red Lantern to Magnus Kaltenborn. The race marshal invoked Rule 36.
Jim Lanier and Scott Janssen scratched at Safety after calling for assistance outside the checkpoint because of weather conditions that stalled them. Jim felt his personal health was not good enough to care for his team, and Scott stayed out of concern for Jim.
Standings at 10:00PM CDT:
Finished at Nome
21 Hugh Neff (68)
22 Anna Berington (4)
23 Michi Konno (63)R
24 Jeff King (40)
25 Michael Williams Jr. (27)
26 Katherine Keith (51)
27 Rick Casillo (9)
28 Martin Buser (28)
29 Cody Strathe (2)
30 Andrew Nolan (56)R
31 Noah Pereira (49)
32 Tom Knolmayer (43)
33 Emily Maxwell (58)R
34 Aaron Peck (50)
35 Charley Bejna (38)
36 Kristy Berington (20)
37 Andy Pohl (12)R
38 Monica Zappa (48)
39 Brett Bruggeman (37)R
40 Larry Daugherty (14)
41 Lev Shvarts (22)
42 Peter Fleck (67)R
[Read more →]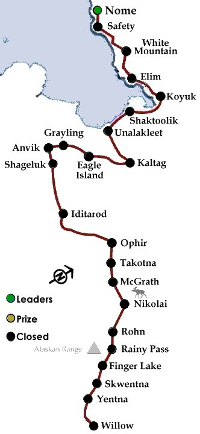 The next 10 finishers showed up overnight and the race has moved to the coast as the Red Lantern left Kaltag.
Rob Cooke gave up his battle with a stomach flu and scratched at Kaltag. He has been fighting it for some time to keep his Siberians on the trail.
Alan Eischens scratched at Koyuk after an arm injury that restricted his ability to care for his team.
Marcelle Fressineau has scratched at Shaktoolik. She left but returned to the checkpoint in the best interests of herself and her team.
Bad News: "At approximately 12:15a.m. today, Blonde, a five-year-old male from the race team of Katherine Keith (bib #51), died at the Koyuk checkpoint. Blonde had been dropped there earlier in the day and was being treated by veterinarians for signs of pneumonia."
Standings at 9:30PM CDT:
Finished at Nome
11 Matt Hall (15)Q
12 Aaron Burmeister (64)
13 Matthew Failor (55)
14 Ketil Reitan (54)
15 Aliy Zirkle (31)
16 Jessie Royer (36)
17 Kelly Maixner (52)
18 Mats Pettersson (3)
19 Michelle Phillips (18)
20 Lars Monsen (61)
21 Hugh Neff (68)
22 Anna Berington (4)
23 Michi Konno (63)R
24 Jeff King (40)
[Read more →]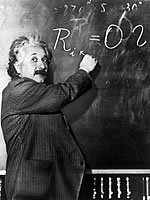 3/14 is Albert's birthday and
I assume you have all shopped for the perfect gift.
To start: Π ≅ 3.141592653589793238462643383279502884197169399
3751058209749445923078164062862089986280348253421170679….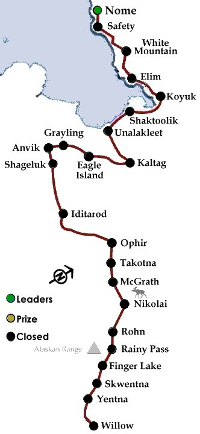 Joar made it in at 6:00AM CDT for a total time of 9 days and 12 hours. Nicolas was at Safety when Joar went under the arch.
Jessie Holmes's 7th place finish is good enough for rookie honors.
Standings at 9:00PM CDT:
Finished at Nome
1 Joar Leifseth Ulsom (33)
2 Nicolas Petit (46)
3 Mitch Seavey (13)
4 Ray Redington Jr (17)
5 Peter Kaiser (30)
6 Richie Diehl (29)
7 Jessie Holmes (41)R
8 Ramey Smyth (21)
9 Travis Beals (60)
10 Linwood Fiedler (8)
[Read more →]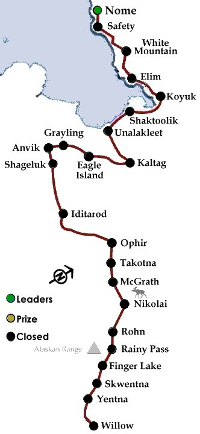 Joar has about about an hour lead over Nicolas. Both of them will be heading for Nome from White Mountain today
Joar's lead is 3:01 leaving Elim, but he will probably need to rest on the trail to White Mountain.
Joar made it to White Mountain just before 11AM CDT and collected the new prize – $2500 and a Marianne Wieland print. He will head to Nome at about 7PM CDT.
Nicolas lost the trail and his lead between Koyuk and Elim and had to backtrack. There is blowing snow on the trail for that stretch.
Joar has a 3½ hour lead over Nicolas and 5 hours over Mitch. 5PM CDT marks 9 days since the start of racing.
Wade Marrs, Tom Schonberger, and Allen Moore all scratched today. It would appear, in the absence of official information beyond "best interests of the team", that the mushers are experiencing health problems.
Standings at 9:15PM CDT:
Beyond White Mountain
1 Joar Leifseth Ulsom (33)
At White Mountain
2 Nicolas Petit (46)
3 Mitch Seavey (13)
4 Ray Redington Jr (17)
Beyond Elim
5 Peter Kaiser (30)
6 Richie Diehl (29)
7 Travis Beals (60)
8 Linwood Fiedler (8)
9 Ramey Smyth (21)
10 Jessie Holmes (41)R
[Read more →]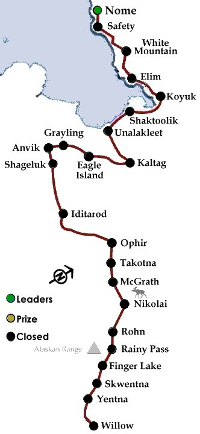 The race is compressed to the Yukon and the coast. Nicolas has a 2½ hour lead on Mitch, so it's down to rest as both teams seem to be maintaining the same approximate speeds.
Ryan Redington scratched at Kaltag, leaving Ray Jr the only Redington left in the race after an earlier scratch by Robert.
Joar pulled it off and took the lead for the moment at 4:30PM CDT.
Standings at 10:00PM CDT:
Beyond Koyuk
1 Joar Leifseth Ulsom (33)
2 Nicolas Petit (46)
At Koyuk
3 Mitch Seavey (13)
Beyond Shaktoolik
4 Peter Kaiser (30)
5 Ray Redington Jr (17)
6 Travis Beals (60)
7 Wade Marrs (11)
8 Ramey Smyth (21)
9 Linwood Fiedler (8)
10 Richie Diehl (29)
[Read more →]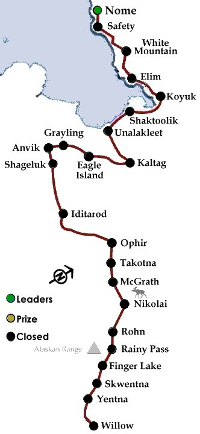 We are now on Daylight Saving Time and headed for the coast. Joar and Mitch are cutting rest to reduce Nicolas' lead by an hour. That might work in the short term, but it also reduces rest for the puppies and it's still a long way to Nome.
By being the first to Kaltag, Nicolas picked up 25 pounds of salmon and $2000. Nicolas is first to the coast.
Standings at 9:00PM CDT:
At Unalakleet
1 Nicolas Petit (46)
Beyond Kaltag
2 Joar Leifseth Ulsom (33)
3 Mitch Seavey (13)
4 Richie Diehl (29)
5 Peter Kaiser (30)
6 Ray Redington Jr (17)
7 Wade Marrs (11)
8 Matthew Failor (55)
9 Travis Beals (60)
10 Matt Hall (15)Q
[Read more →]
The NRA sues as Florida enacts its gun-control law. The NRA claims raising the age to purchase all guns to 21 and imposes a 3 day waiting period for all firearm violated the Constitutional rights of 18 to t0 20-year-olds.
You have had to be 21 and wait to purchase a handgun for years, so this is moving all guns to the same standard. Given that Pam Bondi is the Florida attorney general, the NRA might win at the trial court level but their argument is bogus. Florida isn't the only place you have to be 21, and the biggest retailers are already moving in that direction.
Spring forward, Fall back.
Just to screw up your life, don't forget that Congress has stolen 2:00 to 2:59AM Sunday from you. They should at least have the decency to wait until the equinoxes to do this sort of thing. There's barely enough daylight to do what needs to be done, much less save.
It's a government conspiracy to make you late for church 😈