Happy All Hallows Eve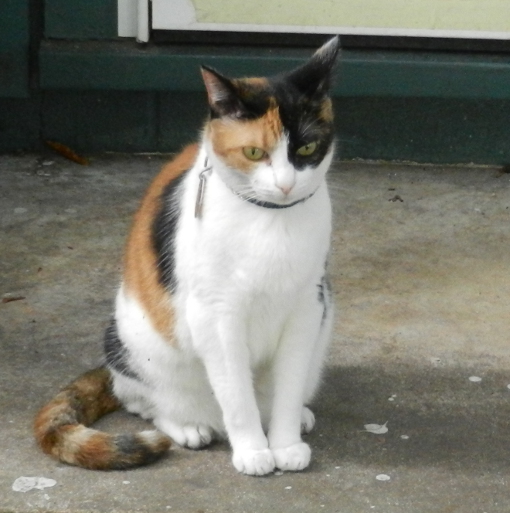 Treat or hairball!
[Editor: CC celebrates Halloween every day.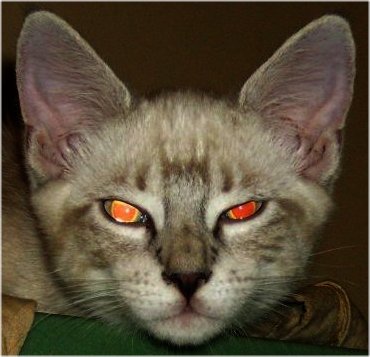 Whether you celebrate Celtic New Year's Eve [Samhain], the evening before All Saints Day [Halloween], or the posting of Martin Luther's Ninety-Five Theses in 1517 [Reformation Day], have a happy one.
Wikipedia does its normally thorough job of covering all of the bases on the holidays that share October 31st.
These are my remembrances of a traditional American Halloween.
The BBC reports that 'Wild' Kaci Hickox is on the loose:
The governor of Maine has vowed to exercise the "full extent" of his authority to quarantine a nurse who treated Ebola patients in Africa.

Paul LePage said negotiations with Kaci Hickox, who last week returned from Sierra Leone, over the terms of her isolation had broken down.

Meanwhile Ms Hickox, who is free of Ebola symptoms, went for a bike ride.
Ah, but she didn't just go for a bike ride, she talked to reporters, and even shook a hand that was offered. All this while still, maliciously, not having any symptoms of anything.
LePage has gone to court to get an order so the state police officers he has watching her can actually prevent her from doing what she wants. Of course, a court order can be challenged and LePage will have to justify the need for confining Ms Hickox.
Having already kicked New Jersey governor Christie's butt, Kaci Hickox takes on Maine. Maine governor LePage decided to just continue the quarantine imposed by New Jersy, despite the fact that Ms Kickox has no symptoms of anything. She has agreed to follow the new CDC guidelines, but she is not willing to stay locked up at her home.
A man in Connecticut is suing the local school for suspending his daughter for three weeks. The suspension is based on the child's recent trip to Nigeria.
Instead of educating the parents who complained about the location of the Ebola outbreak, the school pandered to their paranoia.
If you don't believe that three weeks is too much to ask, read this, and substitute 'First they came for the health care workers' for the first line. It is really easy to give up someone else's civil rights and liberty.
Zero's administration has, at last, decided it has put up with all of the insults from Netanyahu's administration in Israel that it intends to. CNN has the story of the Israeli Defense Minister's visit to DC.
Common courtesy is not too much to ask for over a billion dollars in aid from the US.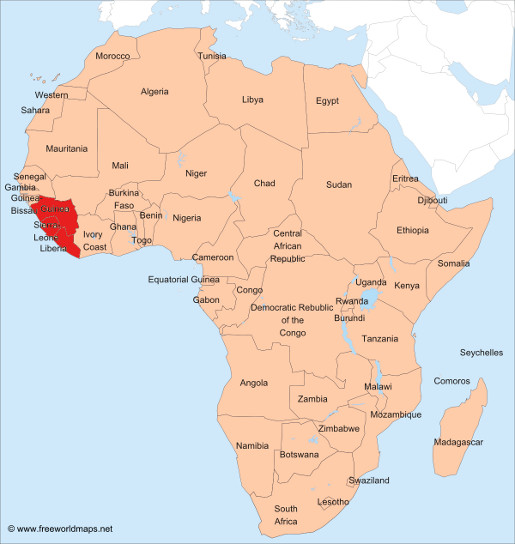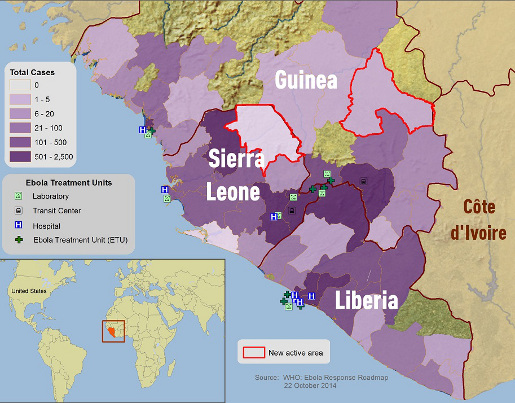 The top map show where on the continent of Africa the Ebola outbreak is located, and the lower map is from the Center for Disease Control showing the concentration of cases within that area.
After the verbal beating that New Jersey governor Christie took from Kaci Hickox over the weekend, CNN reports Quarantined woman to be discharged, Christie's office announces.
Ms Hickox will be going home to Maine where she is probably the leading expert in the state on Ebola and the treatment of patients with the disease. Maine has an international airport and could certainly use some local guidance in the area.
It was absurd on the part of the governors to think that people who have volunteered to risk their lives dealing with the Ebola outbreak at its source were going to quietly acquiesce to being treated like criminals on their return.

Position: 14.5N 84.5W [10PM CDT 0300 UTC].
Movement: West [270°] near 5 mph [ 7 kph].
Maximum sustained winds: 35 mph [ 55 kph].
Wind Gusts: 50 mph [ 80 kph].
Minimum central pressure: 1006 mb.
Currently about 95 miles [ 150 km] West-Southwest of Cabo Gracias a Dios, Nicaragua/Honduras border.
This is Tropical Depression Nine reborn in the Caribbean.
The system has dissipated at 10PM CDT. This is final NHC advisory.
Here's the link for NOAA's latest satellite images.
[For the latest information click on the storm symbol, or go to the CATEGORIES drop-down box below the CALENDAR and select "Hurricanes" for all of the posts related to storms on this site.]
The BBC has a gem: Visiting envoy Samantha Power condemns response.
The US UN ambassador unloads on the world for promising to help in the Ebola epidemic, but failing to deliver. She pours salt in the wound by praising the response of Cuba, which should annoy the hell out of a lot of politicians. She points out that the situation requires supplies and trained medical personnel, not feel-good UN resolutions.
CNN has an extended interview with Kaci Hickox, the nurse arrested at the airport for helping Ebola patients in West Africa.
She insisted on keeping her iPhone, which means that she can send pictures as well as talk to the media. The pictures in the video of her living conditions are beyond strange – New Jersey has her camping out in a building!
They pitched a tent inside a building, not the hospital building but near by, and moved in a hospital bed. She has a camping toilet, but no running water or shower facilities.
Are the medical personnel treating the doctor who was diagnosed with Ebola in New York City going to be forced to live like this? If not, why is Kaci Hickox?
Kaci Hickox is a nurse who has been part of an MSF [Doctors Without Borders/Médecins Sans Frontières] team helping Ebola patients in West Africa. Upon her return to the US she was given a 21 day jail sentence in a New Jersey hospital isolation ward for that apparent offense, and she makes it clear that she isn't happy.
CNN covers this and the reaction to the surprise announcement by the governors of New York and New Jersey that everyone who enters the US at Port of New York/New Jersey facilities would be automatically incarcerated for 3 weeks if they had contact with Ebola patients.
In the BBC coverage it is noted that the governor of Illinois has also joined New York and New Jersey in the three week imprisonment.
The governors didn't talk to the CDC or NYC or anyone who actually knows anything about Ebola, they simply saw an opportunity to gain from the panic over Ebola and they took it. They don't seem to care that they are discouraging US health care workers from going to West Africa to stop the disease at its source.
The Original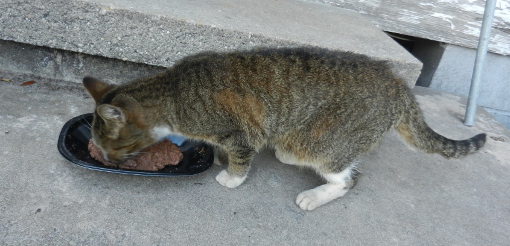 Nom…nom…nom…
[Editor: After so many shots of Tadpole, it was time to give Froggy a chance. She isn't eating uphill, I used her back as the horizon.
The people who think banning entrance will stop Ebola have more support: North Korea.
Look, you had the lab supervisor who spent big bucks on a cruise to the Caribbean get confined to her cabin for the trip, and the ship refused landing permission by Belize and Mexico, despite the fact that she didn't have any symptoms of anything, and was found to be Ebola-free once she got back to the US and could be tested.
Then there was the Air Canada pilot who refused to have blood samples on his airliner, because they were going to be tested for Ebola.
The disease that is spreading outside of West Africa is paranoia, not Ebola. Chill the hell out, people.
Early voting in Okaloosa County for the General Election started on Monday, October 20th and runs through Saturday, November 1st from 9AM to 7PM CDT daily.
The locations are more convenient than last time for the South County.
[Thanks for reminding me about Early Voting, Steve.]