Category —
Cat Blogging
Here Comes the Sun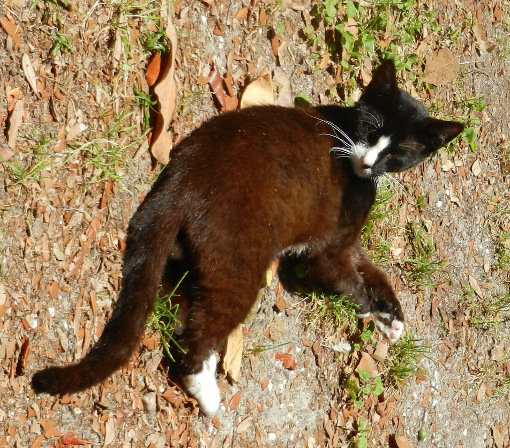 What's he up to?
[Editor: JR is settling down to soak up some 'rays' and would just as soon I left the area. He doesn't dye his hair on purpose, but the oak leaves the cats use as cushions tend to give them a 'henna rinse'.]
Froggie Goes A-Napping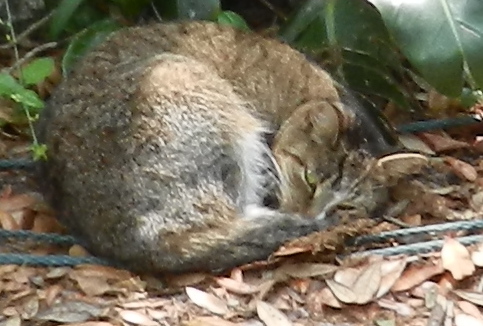 Now what?
[Editor: Froggie interrupts her nap in the sun to eye me suspiciously.]
What a Human sees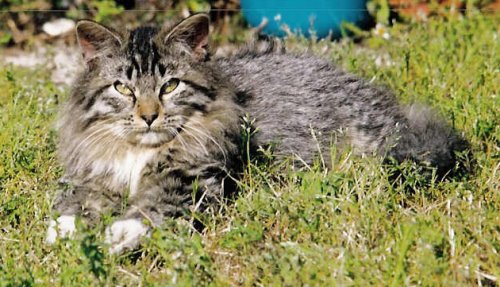 What a Mouse sees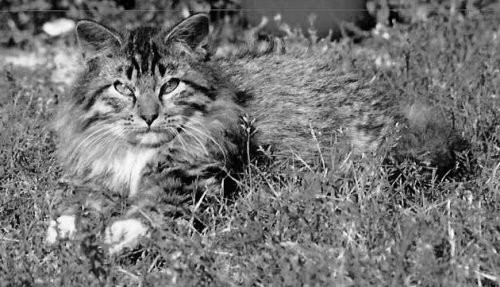 Cat in the Grass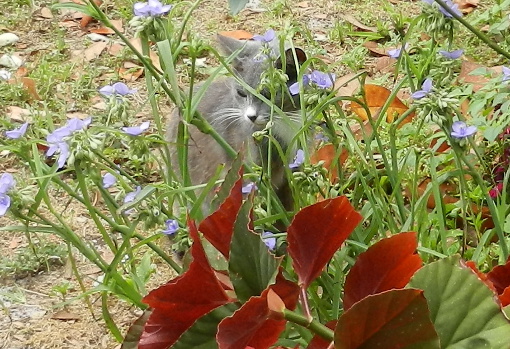 He won't find me here.
[Editor: Photos of Ms Blue normally require zoom, but she is 'hiding' behind some spiderwort which she assumes prevents me from seeing her.]
Weird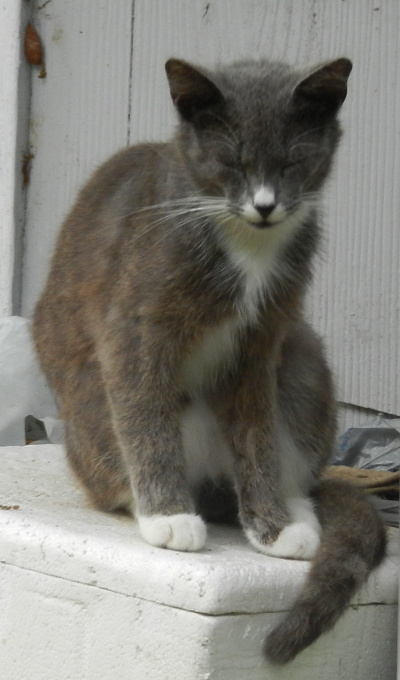 Zzz…zzz…
[Editor: Ms Blue is actually napping in that position.]
Rude Awakening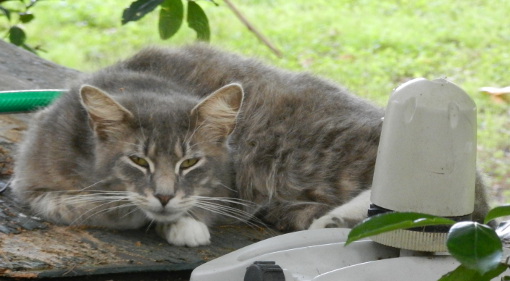 What's going on?
[Editor: Lutu woke up as I approached to take this picture of her on the pump house.]
Update: Sad news. Sergeant Mango, Old White Lady's orange and white tom, has passed.
Paparazzi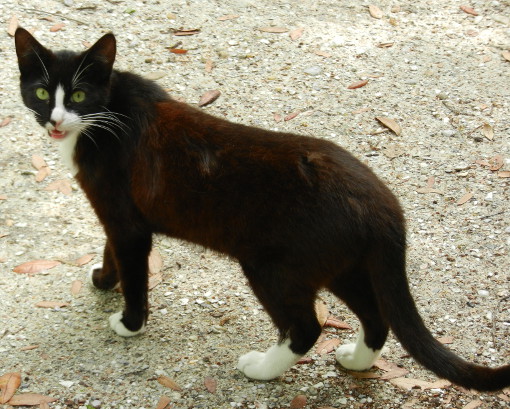 Go away!
[Editor: JR really doesn't like having his picture taken.]
BFF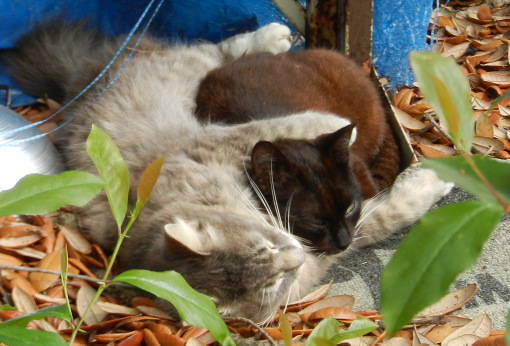 Zzzz…zzzz…
[Editor: Lutu and Mini-Sox continue to sleep together, as they have since they were littermates.]
Long Time No See
Nom…nom…nom…
[Editor: This is Froggy, although the head of her staff calls her Tiger Lily these days. Months ago she was badly injured, and my neighbor found her and took her into his house. Froggy liked the concept of regular meals and a couch to sleep on so much that she is rarely outside any more. She is doing her best to clean all of the meat off a roast chicken carcass to avoid attracting bugs
]
Oh, What A Relief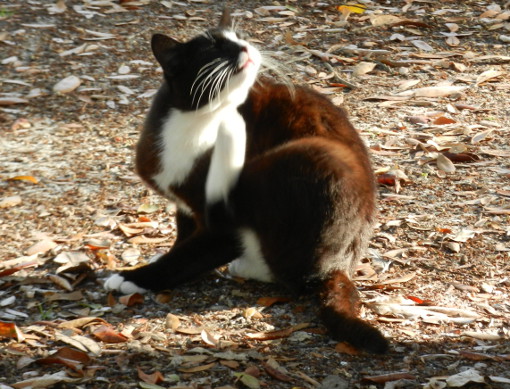 Ahhhhh!
[Editor: JR as just awoken from a nap and is going through a routine of washing up and scratching as the sun heads for the horizon.]
The Old Man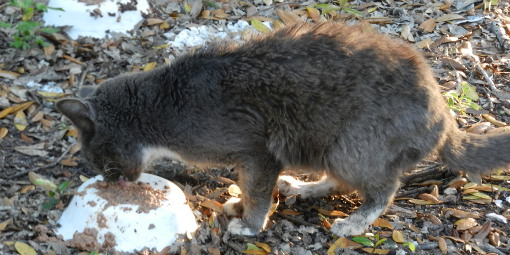 Kids these day have no manners!
[Editor: Toes is looking pretty bad these days. The life of the alpha tom is filled with fights to take the position away, and he has had multiple injuries this year. It is bad during the cold spells, because he isn't welcomed into the clusters of cats that share their warmth.]
On Hold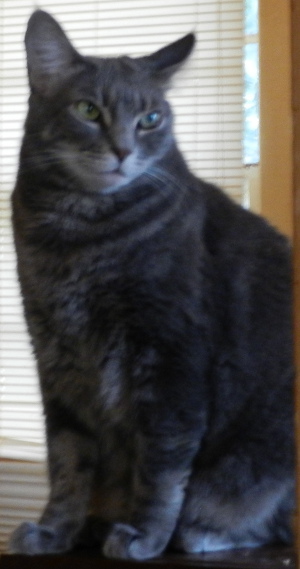 The service lately has been terrible!
[Editor: Property has to do an encore, because none of the cats is happy with the circular saw I've been using to finish up the rehab.]
Queuing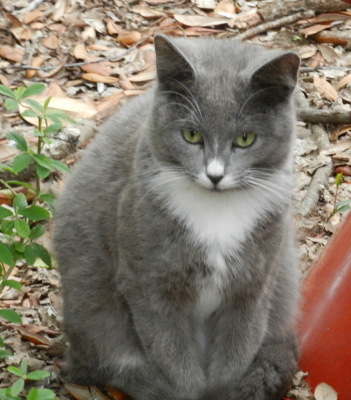 How long is the wait?
[Editor: Ms Blue is the littermate of the tuxedo, Junior. She was waiting for dinner.]
Friends?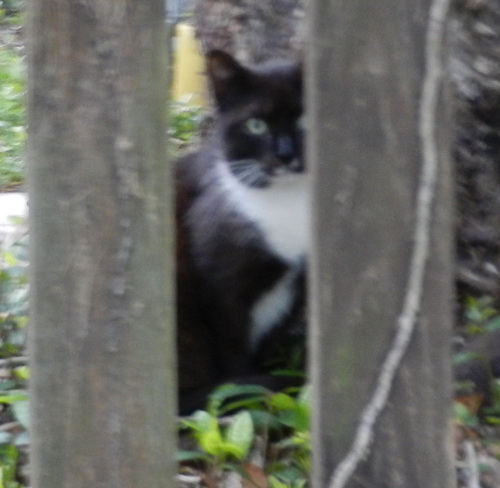 Stay away!
[Editor: Mini-Sox and company are annoyed at all the activity next door to my house, and have transferred 'operations' to Mother's house. He is not happy to see me. The common interpretation of Robert Frost's Mending Wall about fences and neighbors may not be right.]