Category —
Cat Blogging
My Blue-eyed Boy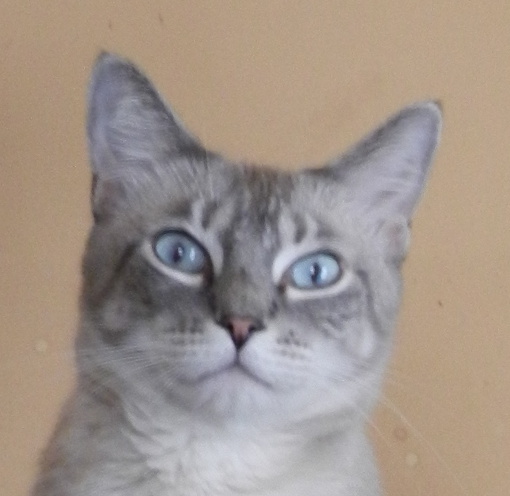 What?
[Editor: This may be my only photo in which you can see that Excise's eyes are blue. Alas I took it with my old camera and the focus is off.]
The Friday Ark has been in dry dock for a while
August 26, 2016 6 Comments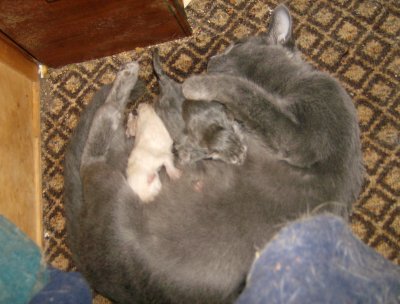 Property and Excise are 10 today.
The traditional theme music for the day on YouTube.
April 15, 2016 Comments Off on Tax Day
While watching & listening to the BBC coverage of the attacks on the airport and a metro/subway station in Brussels, I had some flashbacks of my time in Europe in the 1970s when all kinds of people were blowing things up. We reacted, but we didn't stop everything and freak out. The big difference was the media and politicians weren't trying to make everyone terrified.
Actually I have been emptying a couple of boxes of tissues [made from recycled paper] thanks to the pollen from multiple varieties of plant life that is causing my nose to run non-stop. I recycle the empty boxes by putting the used tissues in them.
This afternoon I took my neighbor and the youngest of his cats to the Vet's for his "before THE operation" visit. I had just arrived home to pick up more tissues when my neighbor called to say he had left the necessary stool sample in my car. If it weren't for the pollen I would have probably noticed, as the Vet's receptionist noticed as soon as I entered with it. Smiling when you are apologizing tends to reduce the sincerity of the act.
March 22, 2016 12 Comments
Dining Out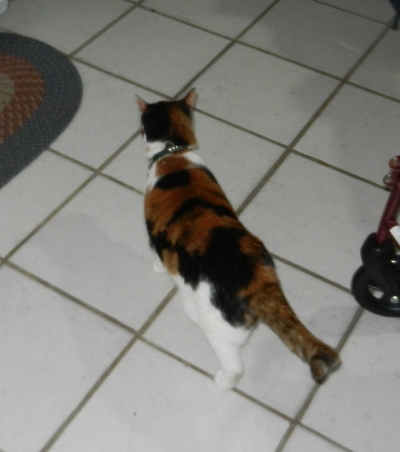 Where's the food?
[Editor: CC came marching into the kitchen expecting to find food and water bowls where my Mother had them when CC was a kitten.]
March 4, 2016 4 Comments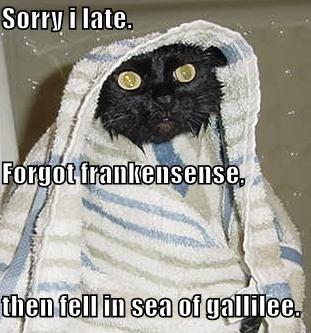 This is a prime example of why you should make a list and check it twice when traveling during holidays. Following stars is all well and good, but can you tell the difference between a star and a meteorite headed directly for you?
If you are migrating home, or off on a vacation, be safe.
December 21, 2015 11 Comments
The local cats are apparently still sleeping off yesterday's turkey and today's left overs, so I'll just plug in Cats in the media.
Belgians tweet cat pictures during #BrusselsLockdown. The police asked people to refrain from providing information on social media as to where they were operating, and people decided to fill in with cat pictures.
In a strange citrus fruit commercial, you have a boy using a large orange tabby guided by a laser pointer to threaten his father about eating the last orange.
The Sun tabloid ran a misleading story about Muslims supporting radicals. People responded by tweeting their on version of "1 in 5 Muslims" headlines (the cats are at the end of the article).
In Australia a red-bellied black snake (poisonous) bit a woman, and the snake was then bitten and killed by the woman's cat. If you avoid the heads, venomous snakes taste just like turkey. (They have pictures of the woman and the snake, but no picture of the cat.)
November 27, 2015 2 Comments
Drying Out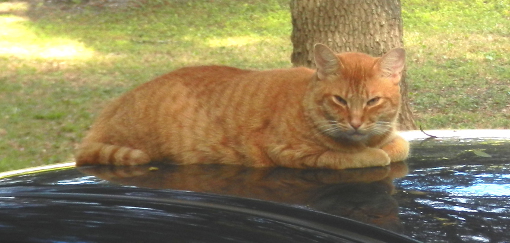 I'm not moving!
[Editor: The Great Pumpkin is resting on the on the highest, driest spot he could find after the thunderstorm on Wednesday.]
Bonus Cat News: From the CBC = Cucumbers terrorize cats, and Hasbro is selling robot cats.
November 20, 2015 2 Comments
Intervention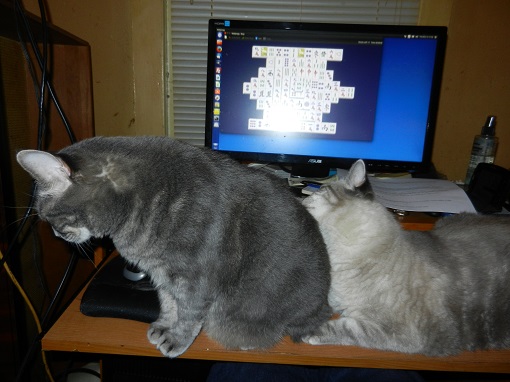 Just one more game!
[Editor: Property is helping Excise with his Mahjong addiction.]
November 13, 2015 3 Comments
Even Less Bright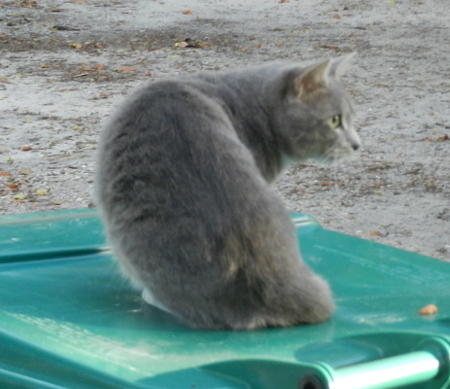 Squirrel!!!!
[Editor: Hadley's chances of catching Godot are a good deal higher than catching a 'tree rat'.]
October 17, 2015 11 Comments
Not Too Bright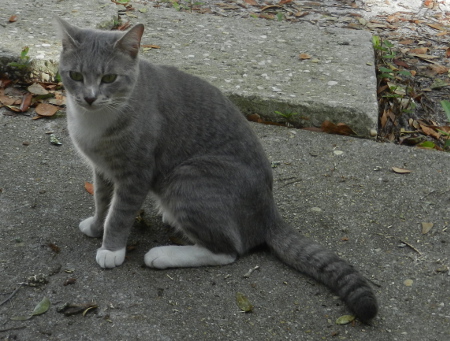 What's a Godot?
[Editor: I think Hadley got conned by CC into waiting for nothing.]
October 9, 2015 2 Comments
Waiting For Godot?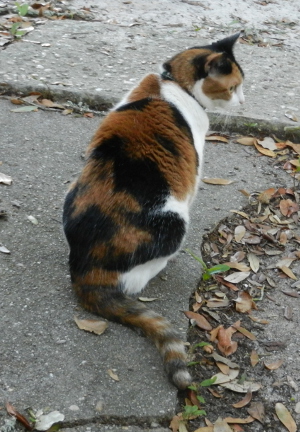 Where is he?
[Editor: CC seems to be waiting for some(thing/one).]
September 24, 2015 2 Comments
Trying Times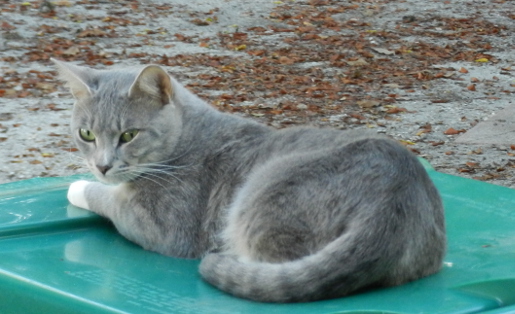 You want what?
[Editor: Hadley is not terribly interested in moving so I can open the garbage can.]
September 18, 2015 3 Comments
Lazy Daze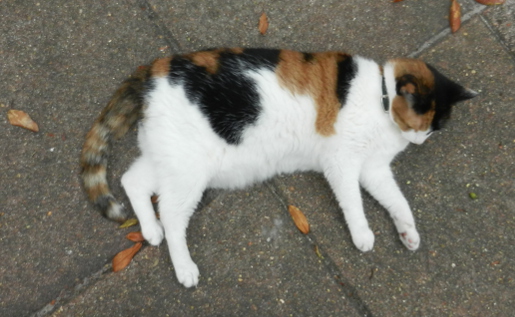 Sigh…
[Editor: CC is taking advantage of the low humidity to lounge outside.]
September 11, 2015 2 Comments
Wool shorn off an overgrown sheep found near Canberra yesterday has set an "unofficial" world record for the heaviest fleece removed in one shearing, the RSPCA says.

The sheep, found yesterday, underwent a risky shearing operation to remove 40.45 kilograms of wool.

It smashed the previous world record held by a sheep in New Zealand called Shrek, whose fleece weighed 27 kilograms.
…

After shearing, the sheep weighed in at 44 kilograms.
This was the second attempt by Australia to capture Shrek's crown. First was Shaun the sheep [not related to this Shaun the Sheep] in Tasmania who came in short at 23.5kg.
Update: The RSPCA dubbed the sheep Chris. NPR's headline was Woolly Mammoth, but the BBC's mobile headline Fleece Release Me for the article is my personal favorite.
September 2, 2015 2 Comments