Category —
Cat Blogging
Mustard Ladybug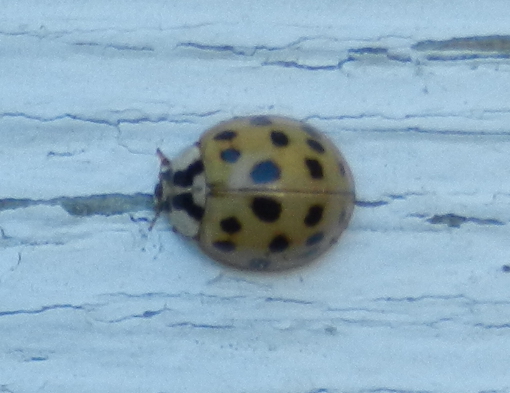 I'm not what you think, really!
[Editor: This Coccinellidae variant is headed for the roses and I wish it bon appetit.]
December 6, 2013 2 Comments
Froggie in Isolation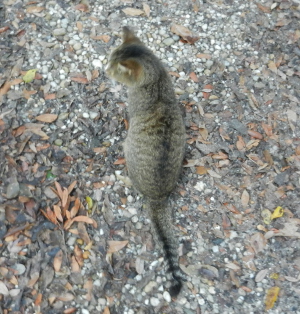 Hello …?
[Editor: Froggie is the only cat out about. There is another front due through so everyone is preparing for the chill to come.]
December 6, 2013 8 Comments
Excise Annoyed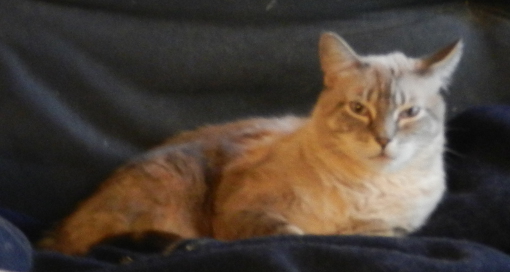 Scottie always gets more power…
[Editor: Excise is not convinced that I am doing everything I can to make him comfortable during the cold snap.]
November 29, 2013 No Comments
Froggie Approaches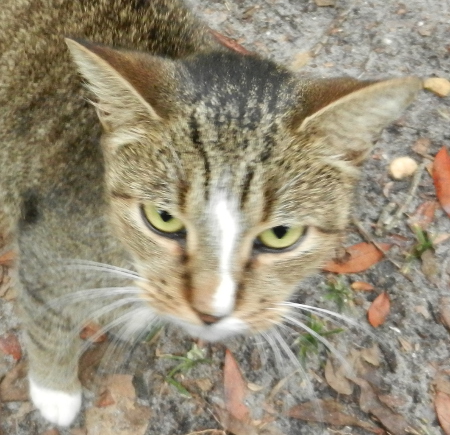 Got a cheezburger?
[Editor: Froggie came over to see what I was doing when I was trying to get a picture of a yellow crab spider, so I took her picture instead.]
November 22, 2013 12 Comments
Even Colder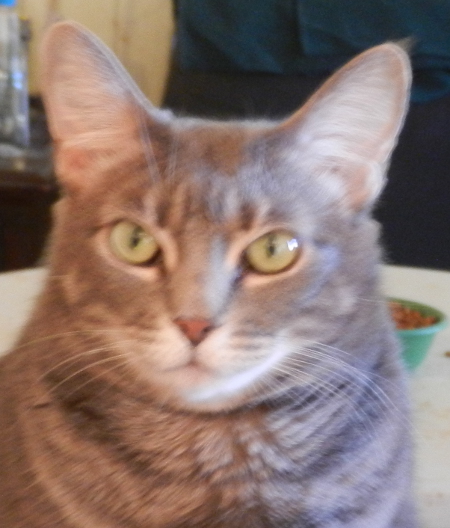 The temperature is seriously deficient.
[Editor: Property is not pleased with the current temperature in the house.]
November 15, 2013 2 Comments
Chewing the Ice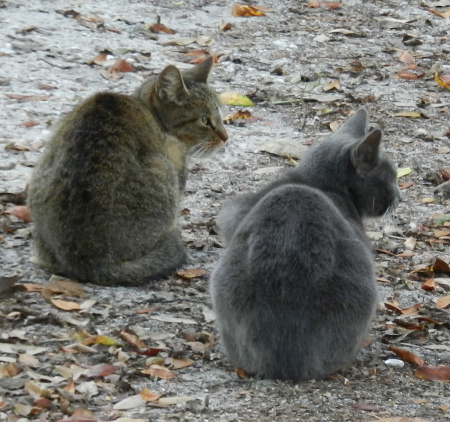 When did you know a well-digger?
[Editor: Froggie and Ms Underhouse discussing how cold it is.]
November 8, 2013 14 Comments
Mini-Sox Rabbits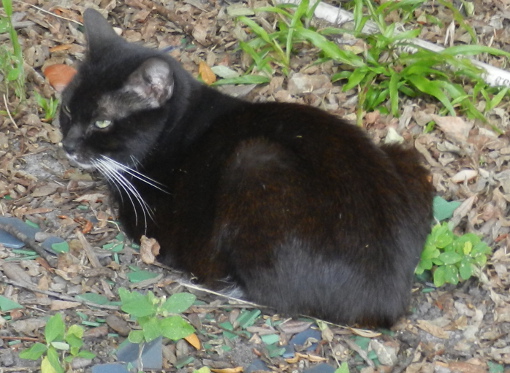 Go away!
[Editor: Mini-Sox has ventured out in daylight looking for some warmth.]
November 1, 2013 Comments Off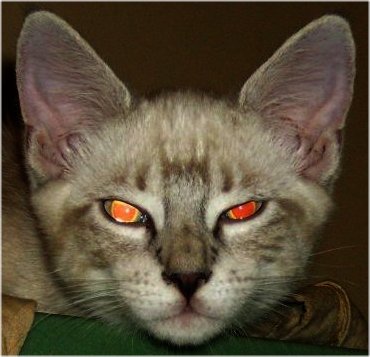 Deal With It…
October 29, 2013 10 Comments
Weasel 'Rabbits'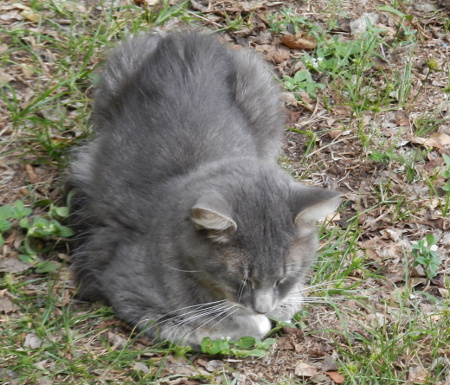 Zzz…Brrr…Zzz
[Editor: The weather is cool, and Weasel came out in the front yard hoping for sun. He assumed the 'rabbit' pose to conserve body heat.]
October 25, 2013 3 Comments
Looking for Trouble
…
[Editor: Ms Underhouse is back from 'catspace' and looking for something to beat up or eat. The perfect feral mother cat.]
October 18, 2013 4 Comments
Hermit in Profile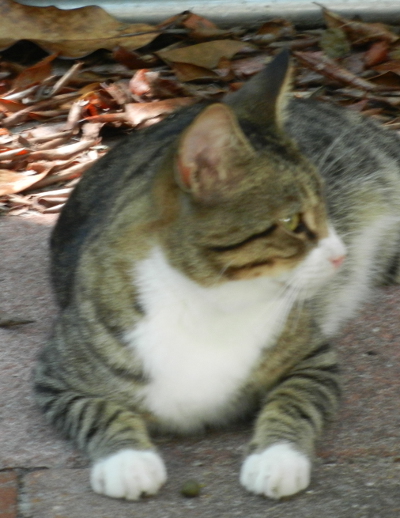 Hmmmm…
[Editor: The Hermit is enjoying the heat that was absorbed in the patio blocks while considering failing to catch a squirrel.]
October 11, 2013 4 Comments
Weasel Returns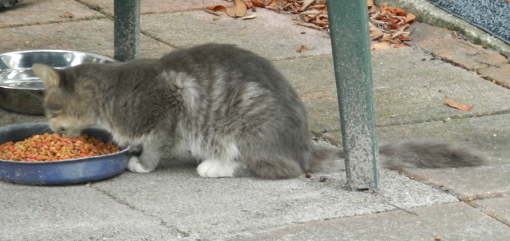 Nomnomnom…
[Editor: While I have caught sight of the Weasel at night, this is the first time in weeks he has been by during the day.]
October 4, 2013 6 Comments
CC Exposed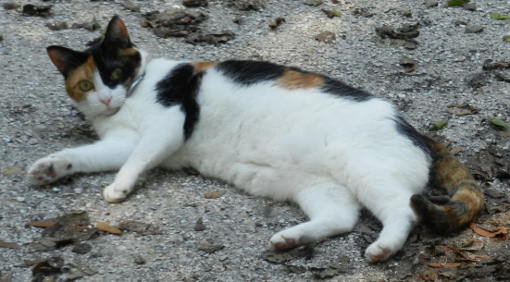 Pervert!
[Editor: CC is laying in the driveway and showing that she is a mostly white cat with all of the color on the top.]
September 27, 2013 4 Comments
CC Unbound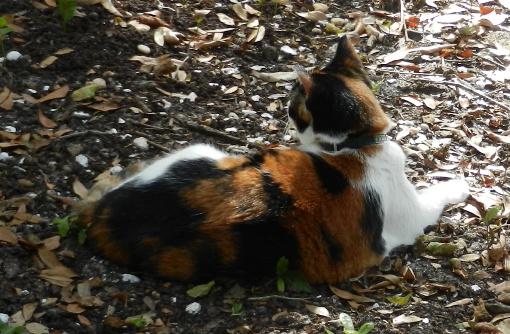 Sigh …
[Editor: CC is relaxing in the shade dappled by sunshine. She has loosed the bounds of the rope when outside after proving that the only thing that would be on the end of the rope would the collar she slipped over her head. Her staff finally gave up.]
[Note: The problem at the Ark seems to have been resolved as my shields did not go up when I visited today.]
September 20, 2013 15 Comments