Posts from —
January 2009
The BBC story was headlined: Turkish PM storms off in Gaza row.
I readily admit that I could be totally wrong about what happened, but I don't think too many people have analyzed this story properly.
The location was the World Economic Forum in Davos, Switzerland and the event was a panel discussion of Gaza.
The Panel:
Secretary General Ban Ki-moon of the United Nations
Secretary General Amr Moussa of the Arab League
President Shimon Peres of Israel
Prime Minister Recep Tayyip Erdogan of Turkey
The moderator was columnist David Ignatius of the Washington Post.
January 31, 2009 2 Comments
The Houston Chronicle notes that the Republicans elect first black national party chairman
WASHINGTON — Michael Steele was elected Republican National Committee chairman today, defeating the incumbent party chief and three other challengers over six rounds of voting to become the first black to lead the GOP.
Steele is the former lieutenant governor of Maryland. Oliver Willis and the late Steve Gilliard both ripped into him for his actions on behalf of the Republican Party.
I think the choice was based on the same misbegotten concept that led to Sarah Palin, a riff on what the Democrats are doing. They are stuck with believing that winning elections is all about marketing, rather than policies.
January 30, 2009 7 Comments
The Pensacola News Journal has the story, but blows the headline: Sansom Quits
TALLAHASSEE – Speaker Ray Sansom, a Destin Republican, has stepped down amid ethics and legal charges that he abused his position.

"Effective immediately, I have decided to recuse myself from the exercise of my duties as Speaker of the House of Representatives," Sansom wrote in a memo to House members. "Ongoing legal proceedings have temporarily created an inability for me to carry out my responsibilities as Speaker. Under the House rules, during this temporary inability, Speaker pro tempore Larry Cretul will exercise all the duties, powers and prerogatives of Speaker."
He is taking a temporary break from his duties as Speaker. He is still the Speaker, and is still a member of the Florida house. He should quit to preserve any dignity he has left, but he won't.
Given the ethics rules of the Florida legislature, I have no doubt that he hasn't actually committed a violation. The rules are so lax I'm not sure if you could violate them if you tried.
January 30, 2009 2 Comments
Events
* 1649 – King Charles I of England is beheaded.
* 1661 – Oliver Cromwell, Lord Protector of the Commonwealth of England is formally executed – after having been dead for two years (it's never too late for revisionism).
* 1835 – A mentally ill man named Richard Lawrence attempts to assassinate President Andrew Jackson in the United States Capitol — the first assassination attempt against a President. Both of Lawrence's pistols misfire, and Jackson proceeds to beat his would-be assassin with his cane.
* 1889 – Archduke Crown Prince Rudolf of Austria, heir to the Austro-Hungarian crown, was found dead with his mistress Baroness Mary Vetsera in Mayerling. How they died remains a mystery.
* 1933 – Adolf Hitler is sworn in as Chancellor of Germany.
* 1948 – Indian pacifist and leader Mohandas Gandhi is assassinated by Nathuram Godse, a Hindu extremist.
* 1968 – Vietnam War: The Tet Offensive begins when Viet Cong forces launch series of a surprise attacks in South Vietnam.
* 1969 – The Beatles' last public performance, on the roof of Apple Records in London. The impromptu concert is broken up by the police.
* 1972 – Bloody Sunday: United Kingdom British Paratroopers kill fourteen Roman Catholic civil rights /anti internment marchers in Northern Ireland- Bloody Sunday
* 2003 – Belgium legally recognizes same-sex marriage.
* 2005 – Amid violence and threats to boycott the results, Iraq holds an election for its National Assembly, the country's first free election since 1953.
January 30, 2009 10 Comments
Speed Counts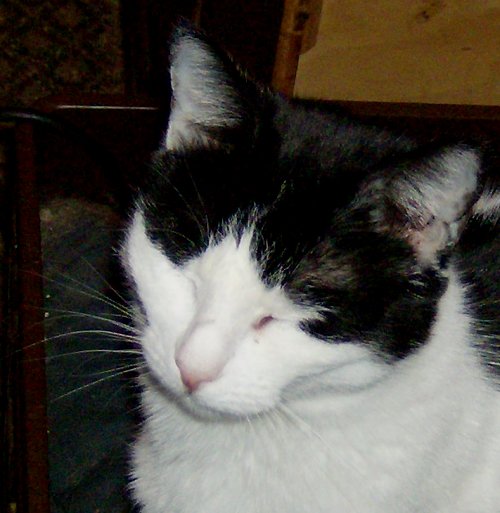 Nice try!
[Editor: Dot is an expert on blinking just before the shutter and flash work.
January 30, 2009 6 Comments
CBS World Watch needs a new translator as witnessed by this headline: Russian, Cuban Presidents Meet Over A Nice Plate Of Lard.
They weren't eating "lard", which is rendered pork fat, they were eating salo which is similar to pork rinds. It is the skin and attached fat from the back of the pig which is then heavily salted, or possibly covered in pepper or paprika to preserve it. It is called salo because it is salted.
The Russians tend to slice it thin and cook it slightly before eating it on rye bread. Others eat it cold. It is the equivalent of salted butter on rye. It is really a form of bar food, as it is normally associated with drinking vodka. It does nothing good for your cardiovascular system with its high sodium and fat content.
We would fry it and call it pork rinds, but they generally don't have as much salt and the fat layer is thinner than salo.
For whatever reason, "sky-blue salo" is a derogatory term for gays in Russian. Vladimir Sorokin got in a lot of trouble for his novel, Goluboe Salo (Sky-Blue Salo), but he never plays nice with any government in power.
January 29, 2009 3 Comments
MSNBC reports that in the widening peanut product recall the U.S. Army the latest to pull items
Worried about salmonella, the Army said Thursday it's removing some peanut butter items from warehouses in Europe, the latest in an ever-growing list of recalled peanut products linked to a national salmonella outbreak.

…The Army's recall does not affect Meals-Ready-to-Eat, but another kind of military grub called Unitized Group Rations-A, which provide a complete 50-person meal.
These rations are served at field kitchens for units at remote locations. Some of them were pretty good in the ancient times when I served, and I assume they are still good, but definitely not diet food, and definitely not in individual portions.
January 29, 2009 8 Comments
The BBC reports that Illinois governor guilty of abuse
Illinois Governor Rod Blagojevich has been ousted from office after being convicted of abusing his powers.

Senators voted 59-0 against him after an impeachment trial, despite his claim that he had "done nothing wrong" and that there was no evidence of a crime.
I haven't been following the case closely, but I get a definite feeling that if he had "done nothing wrong", the vote would not have been unanimous. Most people seem unaware that the appointment of a successor to Obama was not the only charge against the governor, and that he had been annoying the legislature for some time with some rather high-handed methods.
January 29, 2009 Comments Off on Ex-Governor Blagojevich
No doubt due to the bad economic times, Florida State University football couch, Bobby Bowden, has signed a one-year extension of his contract for only $2.5 million, the same as this year. Like everyone else he has had to forgo a raise.
January 28, 2009 Comments Off on Tough Times
Louisiana governor, Bobby Jindal, who is not running for President, has another out of state fundraiser scheduled, this time in Mississippi.
We all know how vitally interested people in Mississippi are about who is the governor of Louisiana.
January 28, 2009 4 Comments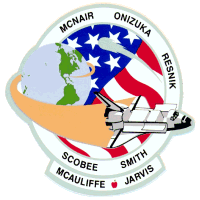 January 28, 1986
Commander:
Francis R. (Dick) Scobee, Lieutenant Colonel, USAF
Pilot:
Michael J. Smith, Commander, USN
Mission Specialist:
Judith A. Resnik
Ronald E. McNair
Ellison S. Onizuka, Lieutenant Colonel, USAF
Payload Specialist:
Gregory B. Jarvis
Sharon Christa McAuliffe
January 28, 2009 10 Comments
The St. Petersburg Times reports that State Farm Insurance withdrawing from Florida property market
State Farm, the largest private property insurer operating in Florida, filed plans to stop selling property insurance statewide.

The pullout includes insurance coverage for home and condo owners, renters, personal liability, boats, personal articles, and business property and liability. The company will continue to write auto policies, where it is the market leader, and other insurance lines.
Another million home and business owners are going to be applying for the state's insurance coverage. State Farm and other insurance companies are in trouble because of bad investments, and the policy holders are being tapped to make up the Wall Street losses. These companies aren't really insurance companies anymore, they are Wall Street gamblers. The policies they write are an excuse to get enough money to feed their addiction.
The entire insurance industry is broken. Governments should just give up on them as a bad idea, and create their own insurance pools. Flood insurance has already been forced upon the Federal government, so they may as well provide full coverage and stop this charade of the "free market". The insurance industry is only interested in guaranteed profits and no risks.
January 27, 2009 4 Comments
John Updike died today. His writings have dominated American fiction for so long that it was a shock to hear he passed.
Over the years he has written such an amazingly large collection of stories and novels that he is almost guaranteed his own shelf at a library. After a while you forgot that he was just a man, and therefore mortal.
January 27, 2009 Comments Off on RIP John Updike 1932-2009
January 27, 2009 Comments Off on MHNT – Episode Four – The Hedgemony Strikes Out