US Debt – Attacks On 'Entitlements'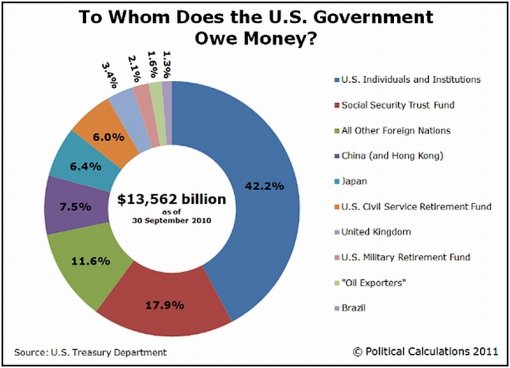 If you wondered why everyone keeps talking about Social Security and Medicare as if they have something to do with the National Debt, when they have been running surpluses for years and have a large trust fund – well this is the answer.
The trust fund is invested in Treasury bills, and when the revenues from the separate tax that pays for the program, no longer covers the costs of the program, those T-bills will be redeemed. By law, the system cannot run a deficit. The politicians don't want to pay back all of the money they borrowed from the trust fund to hide the real size of the deficits they have been running.
The entire surplus that the Shrubbery gave away in tax cuts to the wealthy was from the Social Security trust fund, not from income taxes.
Just over a quarter [26%] of the debt is owed to the Social Security Trust Fund, and the retirement systems of the Civil Service and military, but all people want to talk about is the 7.5% that China holds.