How Do Reindeer Fly?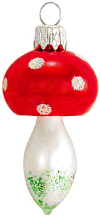 … and how can Santa Claus visit every house, go down chimneys, leave toys, all over the world in one night?
One of the answers is found on European Christmas trees.
Read about Finland's version of the Julbock, Joulupukki.
Note: Don't try this at home unless you have the kidneys of a reindeer. It also explains why gnomes are so cheerful.