Memorial Day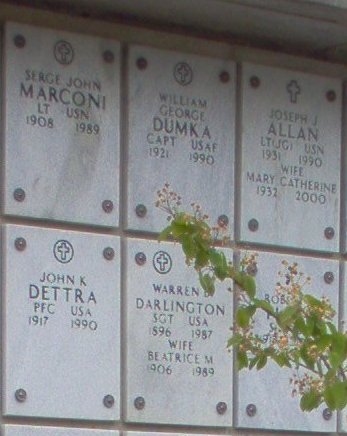 This is a picture from one of the columbariums at the Arlington National Cemetery, the final resting place of many of those who served the United States since the middle of the 19th century.
That is my Father's marker. He didn't know those located around his marker, but they all shared service to their country as part of their life.
The country continues to ask for service and people still respond to that call. As you think about the sacrifices represented by Arlington and other cemeteries, ask yourself if you have done what you could to prevent misuse of the willingness of some to serve.
It is rather for us the living, we here be dedicated to the great task remaining before us–that from these honored dead we take increased devotion to that cause for which they here gave the last full measure of devotion–that we here highly resolve that these dead shall not have died in vain, that this nation shall have a new birth of freedom, and that government of the people, by the people, for the people shall not perish from the earth.
Taps – the final salute to a fallen comrade.