CBS reports: Feds Raid Office of Mississippi Governor's Kin
The FBI has raided the office of a company owned by the wife of Mississippi Governor Haley Barbour's nephew. Rosemary Barbour's firm Alcatec LLC has a large contract with the Federal Emergency Management Agency (FEMA) to maintain thousands of travel trailers housing residents displaced by hurricane Katrina. There is no evidence that Governor Barbour is involved with the company.

Rosemary Barbour is married to Charles Barbour, the nephew of the Governor and himself a county supervisor. A spokesman at the FBI field office in Jackson Mississippi would not comment on the ongoing investigation but said agents had conducted a "court approved" search of a business late Thursday.
June 22, 2007 4 Comments
As I have said in the past, these visas are used by big tech companies to keep down the cost of programmers. There is no shortage of tech people in this country, only a shortage of people who will work for the low wage, no benefits offers that the big tech companies want to pay to maximize profits.
Natasha of Pacific Views has a post on the H-1B visa scam, and a video that shows one of the ways the companies do it.
June 22, 2007 8 Comments
Dot In No Action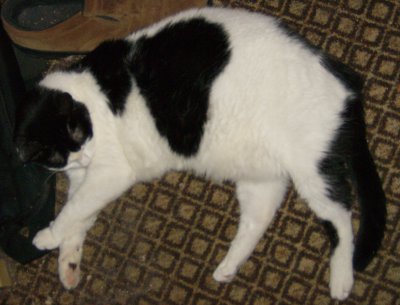 mumble, mumble, kittens, mumble
[Editor: Dot is not exactly a gracious hostess when it comes to the kittens. She doesn't cuff them, but she certainly has not had any latent maternal instincts aroused by their presence.]
June 22, 2007 9 Comments