So Dave Johnson at Seeing The Forest found out that he was on a list, and enters TSA purgatory when he tries to fly.  Mary at Pacific Views notes that 60 Minutes did a piece on Flight Risks, talking to a number of people named Robert Johnson, another name on the list.
CBS found out that the "Robert Johnson" on the list is actually a known alias of a whacko convicted of plotting to blow up a Hindu temple in Canada, which makes the list worthless.
Beginning on Monday, September 10th, at around 2PM CDT this site will be down for 4 to 8 hours for a scheduled move by my hosting company. Having several unplanned interruptions caused by circumstances beyond their control, Nearly Free Speech is going to shift their operations to a new data center where they will have control.
Steve Bates of Yellow Doggerel Democrat uses the same host.
Via Susie, CNBC report on the Job Losses for August. You need at least 150,000 new jobs to take care of new people entering the job market, but there was a net loss of 4,000 jobs in August and June was revised down to 69,000, and July to 68,000.
This low pressure system is becoming better organized as wind shear is dropping so people on or near the Atlantic coast from South Carolina northward need to start paying attention to their weather stations.
The current best guess is a strong tropical storm that runs along the coast with heavy rain and 60 mph winds, but storms have been over-achieving this year, so pay attention.  Tropical storm spin off tornadoes,  so don't concentrate on the eye.
In my e-mail this morning was an obvious phishing attempt that spoofed the IRS, telling me I had a tax refund that I should apply for on-line.
Given that I have never provided the IRS with that e-mail address, don't use e-filing. and am fairly certain that the IRS hasn't moved to Brazil recently, I went looking for a way to report it. There doesn't appear to be one. I would assume I would need to telephone someone and they would get back to me, rather that simply forwarding the e-mail to abuse@irs.gov, like all of the real sites on the 'Net.
In my law enforcement days, it would have been the Secret Service, but they have broken the government so badly they probably don't have a procedure for dealing with it.
Someone has already dropped this one in the PhishTank, so volunteers will have to take up the slack until "Homeland Security" masters the mouse.
Comfy?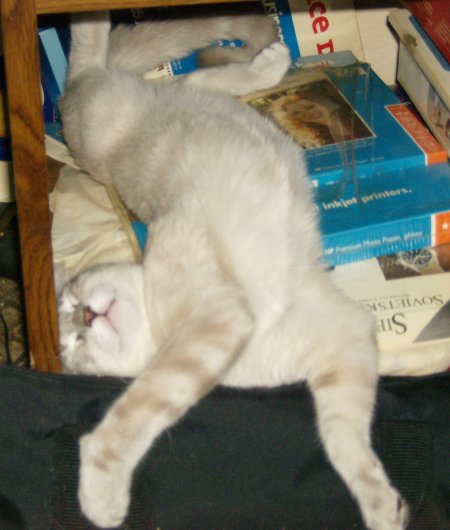 Zzzz…..
[Editor: I have a hard time believing the places and positions Excise can sleep in. Even when he pushes stuff off of shelves, it certainly doesn't make for a comfortable bed.]