I would personally appreciate it if the media and the Florida Secretary of State would remember that from the Apalachicola River west to the Perdido River is the Central Time Zone in the state of Florida.  The polls don't close in West Florida until 7PM Central Standard Time, which is 8PM Eastern Standard Time.
In past years the Secretary of State has started to announce election results before our polls closed, and that is really tacky as well as slightly illegal.
Florida has 11,247,634 registered voters and 4,272,280 have already voted early or returned their absentee ballots. Hopefully this will reduce lines tomorrow, but there are no guarantees. There will be many more polling places open tomorrow, and the ballots don't have to be printed, as in early voting, so things should be faster. If you are watching the returns, don't make assumptions based on early results. The first results will be from early voting, and significantly more Democrats than Republicans used that option, so it will probably skew the early results.
November 3, 2008 8 Comments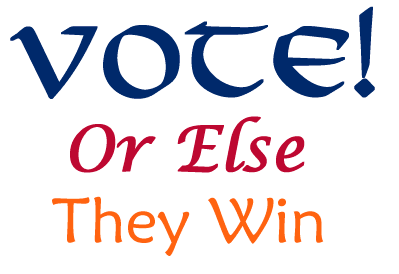 I don't care who you vote for, or who wins if you don't vote, but you have a personal responsibility to millions of Americans who have been putting up with the two years of hell that has been the 2008 campaign to make the effort.
If you don't vote, you can't complain about what they do to you. Voting is a minor inconvenience compared to what a lot of people for a very long time have done to give you the right. At one time only white males with property were allowed to vote, and I think we all understand who benefits from their votes, and it probably isn't you. Even if you don't think your candidates or issues have a chance of winning, vote, because it forces the other side to vote or lose.  I realistically only expect to be on the winning side with about three of two dozen people and issues on my ballot, but they have to work for their wins.
November 3, 2008 29 Comments