As the Santa Ana winds build into the area they will interfere with the "sundowner" winds [on the coast the wind changes from onshore to offshore around sundown] which have been pushing this fire.
The Los Angeles Times has good coverage of the Montecito Tea Fire with a video segment, and a separate photo gallery.
It is expected that a closer inspection will reveal that the number of homes lost, currently 100, will probably double.
The Santa Ana winds building in and a continuing forecast of dry weather just increases the fire danger in the entire region.
UPDATE: Jill of Cookies in Heaven and skippy the bush kangaroo has been evacuated and is camping out with friends, so her coverage from ground zero is probably limited by bandwidth and power restrictions.
Update 2: The Santa Anas are complicit in the Sayre fire in Sylmar near Los Angeles that erupted last night. It is going to be a bad time in SoCal.
November 14, 2008 5 Comments
On Wednesday at the end of a post about Paloma, Jeff Masters noted the conditions were right for a Santa Ana in Southern California and a fire today.
The fire started late Thursday night at Montecito in Santa Barbara County with approximately 100 homes already consumed.
With better models to predict these events, soon your insurance company will be able to cancel your policy a week before they would have had to pay out.
November 14, 2008 2 Comments
KT, Not QT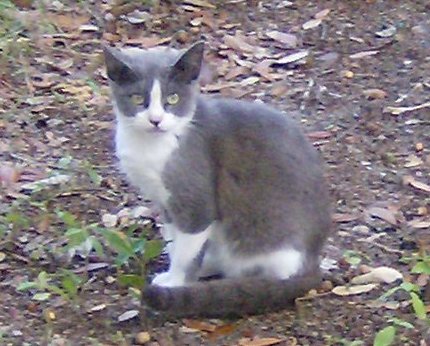 Your next step, is your last.
[Editor: There have been a half dozen ferals with these markings [this is KT-2], and not one of them has ever been tolerant, much less friendly.
November 14, 2008 10 Comments