CNN is now reporting – Authorities: One of California wildfires 'human caused'
MONTECITO, California (CNN) — One of three major wildfires burning in southern California appears to be "human caused," a spokesman for the state's fire agency said Sunday.

Investigators have eliminated "all accidental causes" of the fire that has destroyed 210 homes and injured two people in Santa Barbara County since Thursday, and arson is suspected, spokesman Doug Lannon said.

"We need the public's help in identifying any activity in or around the afternoon of November 13," Lannon said.
In my last post I noted the pattern of three fires in three days moving from the North to the South and starting in similar locations. That doesn't prove anything, but the pattern makes investigators suspicious. There were no barns with damp hay, no grain elevators, no dry lightning storm. They would start looking for a campfire in the woods, a downed power line, a motor vehicle accident… something to explain why the fires started. It is a process of elimination, but if you can't find anything else, you are left with concluding that the fire was set.
peleToobake of the Netherlands. For your winning comment to a post buried in the archives, you have have been entered into all of the major comment spam databases for WordPress blogs.
Here is the winning entry:
to: Admin – If You want to delete your site from my spam list, please sent url of your domain to my e-mail: stop.spam.today@gmail.com
And I will remove your site from my base within 24 hours
webmastegz
What a maroon!

According to Cal Fire, there are currently three major fires burning in Southern California, the Tea Fire at Montecito [Santa Barbara County], the Sayre Fire at Sylmar [Los Angeles County], and the Triangle Complex that started as the Freeway Fire near Corona [Riverside County] but has spread into Orange County. They started on three nights in a row moving from North to South in unsettled wildness areas upwind from residential communities.
The BBC has a brief overview, and the Los Angeles Times has a longer summary report.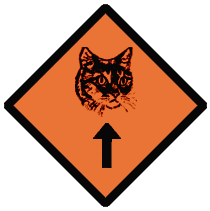 Cat Blogging Ahead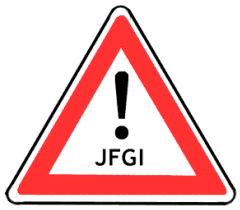 Consult A Search Engine
Note: This is not my work. I discovered these months ago and have no idea where. I think I was looking for standard highway signs, or possibly a Florida panther crossing sign, and discovered them. I rediscovered them while doing some "housekeeping" on my hard drive. They were apparently created by Philipp Lenssen, as this is the earliest reference I could find when I JFGI.