Happy Whatever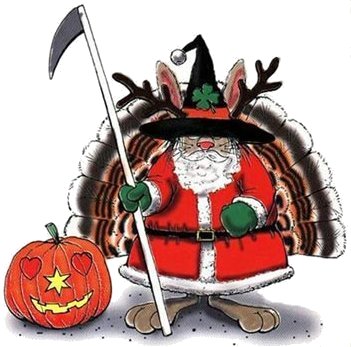 That should cover just about everything for the next few months.
Because my paternal grandfather was in the business of raising turkeys I could have passed along all kinds of tips that would have resulted in your having a perfect turkey tomorrow, from selecting the bird to the actual cooking, but that would have encouraged you to buy a turkey and they would continue to exist on the planet. Domesticated turkeys are evil and stupid, think Tom DeLay in white feathers.
Wild turkeys are OK, they don't destroy their environment and aren't any more destructive than any other animal, but domesticated turkeys are one of animal husbandry's worst ideas. Any politician who "pardons" a turkey is perpetuating the evil that is embodied in the turkey industry.