No doubt due to the bad economic times, Florida State University football couch, Bobby Bowden, has signed a one-year extension of his contract for only $2.5 million, the same as this year. Like everyone else he has had to forgo a raise.
January 28, 2009 Comments Off on Tough Times
Louisiana governor, Bobby Jindal, who is not running for President, has another out of state fundraiser scheduled, this time in Mississippi.
We all know how vitally interested people in Mississippi are about who is the governor of Louisiana.
January 28, 2009 4 Comments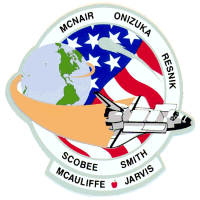 January 28, 1986
Commander:
Francis R. (Dick) Scobee, Lieutenant Colonel, USAF
Pilot:
Michael J. Smith, Commander, USN
Mission Specialist:
Judith A. Resnik
Ronald E. McNair
Ellison S. Onizuka, Lieutenant Colonel, USAF
Payload Specialist:
Gregory B. Jarvis
Sharon Christa McAuliffe
January 28, 2009 10 Comments