Mark Seibel of McClatchy Newspapers says Forget policy, some of this WikiLeaks stuff is great to read. One of the stories he recounts, from Panama, is interesting because it is the most highly classified leak I've seen, and it is an admitted fiction. The cable was expected to be intercepted by Noriega's security apparatus and was used to obscure the imminent US attack to arrest the Panamanian strongman. It is a prime example of why people should not accept these leaks at their face value.
Juan Cole wonders Is AIPAC a Wikileaks Operation? Dr. Cole notes the difference in reaction to Wikileaks, as opposed to other leaks which were a good deal more damaging to national security.
Greg Mitchell of The Nation is blogging the story every day and makes some wonderful catches today:
9:25 Interestingly, Guardian investigations chief David Leigh reveals in a tweet that his paper declined to publish the "terror list" below, while noting that the Murdoch-owned Times in London did. "Murdoch is helping terrorists?" he tweaked.

9:20 German mag Der Spiegel out with its 2nd issue on its access to cables. A lot on Iraq. One headline: "US Diplomats Bewildered and Bamboozled in Baghdad." Say its based on their reading of 5500 cables. This raises key point: WikiLeaks itself has still posted less than 900 cables — due to relying on heavy redacting by its news org partners. But the same partners do have the complete 250,000 cables. So they, not WikiLeaks, are the ones breaking news and quoting from — even if not posting — all the cables.

8:50 WikiLeaks releases long list of potential U.S. targets around the world in "war on terrror," all the way to China. Much controversy in UK as this broke, some claiming it was worst move yet by group.
[…]

They are Spartacus: The number of WikiLeaks mirror sites now up to 355…. WikiLeak tweets: "Sarah Palin says Julian should be hunted down like Osama bin Laden–so he should be safe for at least a decade." Still, surprised that Palin, on Sarah Palin's Alaska, did not shoot Assange from a helicopter last night..
December 6, 2010 8 Comments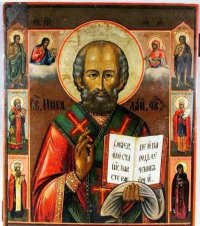 Yes, it is the day that kindly old Saint Nicholas fills the footware of good little girls and boys with treats [or his assistants beat the evil out of bad children, depending on the local customs – they didn't just leave the sticks, in some places they use them.] Don't forget the carrot if he rides a horse in your area.
He is the patron saint of Russian merchants and pawnbrokers.
December 6, 2010 2 Comments