Ho Ho Ho!
Happy NODWISH
С Рождеством Христовым
Sung Tan Chuk Ha
Koli Sana Wa Anta Tayib
Vrolijk Kerstfeest
Nadolig Llawen
Fröhliche Weihnachten
Joyeux Noël
Buon Natale
Feliz Navidad
God Jul
Rauhallista Joulua
Happy Christmas
It is early Christmas morning in Europe, and the excitement is building among the "rug rats" that will burst forth at any moment to waken their poor parents who have probably had about two hours of sleep after dealing with "some assembly required" and/or "batteries not included". You saw them on the Gävlebocken web cam, out and about until about 3AM.
To avoid any bad feelings among family members: it is an official requirement contained in the "Manual for Uncles" that some form or type of device that makes loud and obnoxious noises must be included in all Christmas parcels.
The "Goat" has made it to the celebration, so have a happy one [whether you feel like it or not].
December 24, 2010 9 Comments
So it's time to get everything in line so that there will be smooth sailing tomorrow.
Obviously you need the text of A Visit from St. Nicholas [AKA Twas the night before Christmas] or one of the variations.
But now that you've finished putting up enough lights to match the total electrical consumption of a third world nation, you can sit back and watch the North American Air Defense Command's annual attempt to take out that red-suited commie's attack on the capitalist system by giving stuff away. [Don't worry kids, they are using the anti-missile defense system, so there's no danger to anyone but taxpayers.]
As of 6:30AM local time on Christmas Eve, the Gävlebocken is still standing.
December 24, 2010 9 Comments
Merry Catmas!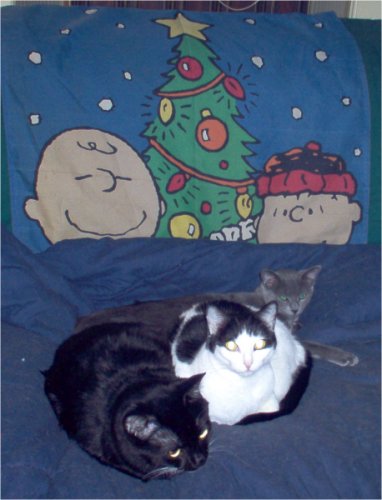 HO! … Ho? … Whatever.
[Editor: Sox, Dot, and Ringo being as merry as they are ever likely to be.]
The Friday Ark is on holiday this week
December 24, 2010 10 Comments