When State senator Durell Peaden, MD, Ob-Gyn, Esq., NRA, GOP of North Okaloosa County finally had to leave the legislature because of term limits, I had hopes that the frenzy of insane firearms laws in Florida was finally finished.
I thought that surely there would be a end after this tragedy:
Joshua Cartwright, 28, shot deputies Warren "Skip" York and Burt Lopez just before 1 p.m. at the Shoal River Gun Club, according to the Sheriff's Office. The deputies were pronounced dead at Sacred Heart Hospital in Pensacola a short time later.
But, no, the voters of North Okaloosa have elected another gun nut, Greg Evers, to the Florida Senate, and he wants guns on campuses.
Attaturk has the bad news on Evers and Rep. Jason Brodeur who wants to make it a felony for medical professionals to ask about guns.
I wonder if Mr. Brodeur has considered the implications of what he has proposed to the investigation of assaults and murders?
January 21, 2011 11 Comments
Just so you know, the fact that Comcast was just cleared to buy NBC Universal has nothing whatsoever to do with Keith Olbermann leaving MSNBC.
Oh, yes, the fact that MSNBC was still advertising Countdown with Keith Olbermann after he told his audience that he was out, should not be assumed to indicate that this was a sudden move on anyone's part.
And, nothing should be assumed from the fact that MSNBC was moved over to the NBC News division's control after Keith Olbermann was penalized for violating a rule of NBC News that didn't exist at MSNBC.
This is a professional operation that just lost the individual with the highest rating in their prime time line-up, but they know what they are doing.
[If you believe any of that you work at the White House or are another form of Republican. If anyone missed the point, this is sarcasm.]
January 21, 2011 13 Comments
Keeping Up With The Times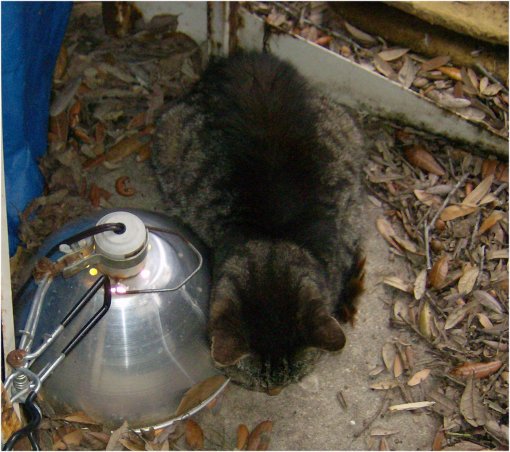 Zzz…zzz…zzz…
[Editor: Molly approves of modern conveniences, like heat provided by an electric light. More reliable than the younger generation, and it keeps the concrete pad dry as well as warm.]
Friday Ark is still in Africa
January 21, 2011 7 Comments