The police in Russia are going all NYPD on protestors of the recent legislative elections and claims of fraud. Now the BBC reports that Russia protests: Gorbachev calls for election re-run.
OK, so there might have been some problems. Badtux has a screen shot of some of the returns:
In the Rostov District
United Russia 58.99%
Communist Party RF 32.96%
Liberal Democratic Party 23.74%
A Just Russia 19.41%
Apple [Russian United Democratic Party] 9.32%
Patriots of Russia 1.46%
Right Cause .59%
Gee, I wonder why people suspect fraud? It might just be rounding errors. [/snark]
December 7, 2011 7 Comments
The seventieth anniversary of "a date which will live in infamy…"
The official US Navy site on the Pearl Harbor attack.
There will be a memorial service aboard NAS Pensacola that normally features local survivors of the attack. Obviously there are fewer of them every year.
They have their own license plates: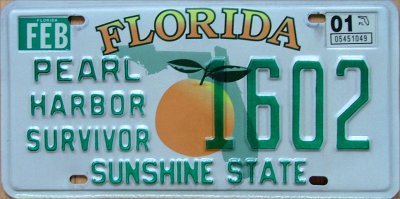 December 7, 2011 6 Comments