Posts from —
January 2012
In order to be 'fair and balanced' I should note that Newt 'Efting' Gingrinch is being sued for copyright infringement by Rude Music who own the rights to the song, 'Eye of the Tiger'. They are all pirates and should be shut down.
Looking at the official results of the Florida primary: None of the Above won a convincing victory tonight, but the delegates will go to Romney with three-quarters of a million, the Grinch got a half million, Santorum a quarter million, and Paul an eighth of a million votes.
The turn out in Broward and Miami-Dade doesn't look like they'll make it to 30%, so the Cubans stayed home. Across the state the turn out is around 41%.
The Panhandle went for the Grinch with the possible exception of my county, Okaloosa, where Romney has a 200 vote lead. McCain may have helped Willard in this county.
This will move the Mittster back to the front of the pack, but there is no way of knowing what will happen in the caucuses that are coming up next.
January 31, 2012 4 Comments
The gang known as the Oakland Police Department are assaulting people again. Maybe someone should call out the National Guard to deal with them, as the local politicians don't seem to be able to do anything.
My virus software exploded with warnings at Pharyngula when I went to look at older posts. This is the problem with running ads, some of them are malware, only no one checks them before they are run from the central server.
Romney is still running the ad with the pirated NBC clip, despite complaints from NBC and Tom Brokaw. IOKIYAR. FYI: It isn't a superPAC ad, it is identified as a Romney ad, and he approved the piracy.
For those playing at home, if turn out for the Florida primary tomorrow is much below 2 million, you will know that 'none of the above' won the primary. I keep hearing Repubs claim that 'their best' aren't running. Their 'best' died some time ago, and what's out there is the Republican Party of today.
We have had to put up with John McCain in the area to drum up support for Romney. That's pretty pathetic.
January 30, 2012 6 Comments

Fairbanks 440 feet [134 meters] Start
Chena Hot Springs 1550 feet [472 meters] 72 miles [116 km]
Rosebud Summit 3640 feet [1109 meters]
Mile 101 Steese Highway 2250 feet [686 meters] 42 miles [68 km]
Eagle Summit 3685 feet [1123 meters]
Central 435 feet [133 meters] 33 miles [53 km]
Circle City 597 feet [182 meters] 74 miles [119 km]
Eagle 880 feet [268 meters] 159 miles [256 km]
American Summit 3920 feet [1195 meters]
Dawson City 1050 feet [320 meters] 147 miles [237 km]
King Solomon's Dome 4002 feet [1220 meters]
Pelly Crossing 1558 feet [475 meters] 202 miles [325 km]
Carmacks 1722 feet [525 meters] 73 miles [117 km]
Braeburn 2326 feet [709 meters] 77 miles [124 km]
Whitehorse 2089 feet [637 meters] 100 miles [161 km] Finish
The total distance is approximately 1000 miles [1600 kilometers]
January 30, 2012 Comments Off on The Trail
CBS reports that NBC asks Romney campaign to remove its content from new ad.
So the Romney campaign used material that is copyrighted by NBC without permission and broadcast it.
Under the moguls' SOPA thinking, the Romney campaign would be removed from the airways, and all of those who aired the ad would be in deep trouble.
I guess cable systems could be shut down using the same logic that resulted in the seizure of MegaUpload.
Of course, politicians don't think they are subject to pesky laws, which is why they are always 'stealing' copyrighted music and video to use in their campaigns. Laws, after all, are only for the 99%.
January 29, 2012 Comments Off on Shut Him Down
When I walked into my Mother's the other day she asked me a question that I assumed had been on Jeopardy. I heard "Who are the Cardassians?" She has never been a fan of science fiction, and I assumed it came up in one of the pop culture categories.
I hadn't even gotten warmed up about Deep Space Nine, when she, said "No, no, no! These people are in California, and I want to why they are on TV?"
She had meant a family named the Kardashians, and even after looking them up, I had no idea why they were on TV. They are apparently 'famous for being famous' and a way to fill a programming slot without spending money on actually creating a program.
Since I looked it up, I have noticed that the name pops up in the Entertainment section of CNN on occasion, but still have no idea why.
My only response to my Mother was that she should use the channel change function on her remote.
Elayne has a very large infographic up that points out that the media moguls have opposed every technical advance made, and repeatedly claimed that they would be ruined by people stealing their 'precious fluids' as a result of each new product.
I think they need to make something worth stealing, before they complain.
January 28, 2012 7 Comments
Fair Warning: The race starts in Fairbanks, AK next Saturday with about two dozen teams in contention. Several teams had to drop out at the last minute because the Copper Basin 300 race, one of the qualifying events for the Quest, was cancelled due to poor trail conditions.
The temperatures are cold, but the interior hasn't been overwhelmed with snow.
This is the faster of the two versions of the trail as the double climb up Rosebud and Eagle Summit occur early in the race when mushers and dogs are in good shape.
January 28, 2012 6 Comments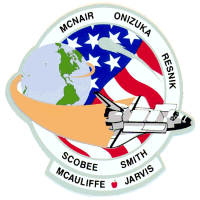 Commander:
Francis R. (Dick) Scobee, Lieutenant Colonel, USAF
Pilot:
Michael J. Smith, Commander, USN
Mission Specialist:
Judith A. Resnik
Ronald E. McNair
Ellison S. Onizuka, Lieutenant Colonel, USAF
Payload Specialist:
Gregory B. Jarvis
Sharon Christa McAuliffe
January 28, 2012 Comments Off on Challenger
Gentleman at Leisure
What, hmmm …
[Editor: Sox lazing on my bathrobe in the chair shows a couple of the problems I need to address with the camera. The room light is yellow as it is all indirect and coming off of beige paint, and his pupils are so expanded that you can't see the eye color. I may need a spotlight to get the colors right, but the camera works in low light.
January 27, 2012 7 Comments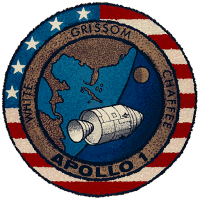 Virgil "Gus" Ivan Grissom, Lieutenant Colonel, USAF
Edward Higgins White, II, Lieutenant Colonel, USAF
Roger Bruce Chaffee, Lieutenant Commander, USN
January 27, 2012 Comments Off on Apollo 1
CNNMoney has a background piece on the Anti-Counterfeiting Trade Agreement [ACTA], Meet SOPA's evil twin, ACTA.
The ABC notes the reaction in one country getting ready to sign ACTA: Poles protest against anti-piracy pact.
Note that the government of Poland had meetings with the media conglomerates, but not talk to Internet communities or the general public, just like the SOPA/PIPA debacle. The Senate may have dropped PIPA for the moment, but ACTA could pop up at any time for ratification.
January 26, 2012 Comments Off on It's Not Over
The BBC on the latest corporate failure:
Symantec initially said there was no risk to users as the stolen code was six years old, advising simply to make sure the most recent version of the products had been downloaded.

But the updated advice said the stolen material had included blueprints for Norton Antivirus Corporate Edition, Norton Internet Security, Norton SystemWorks (Norton Utilities and Norton GoBack) and pcAnywhere.

Of those products, only pcAnywhere is said to be at "increased risk", and users of the other software packages should not be concerned.
Ah, yes, don't worry, be happy … until they update their advice again.
This is a company that sells security products, and their system was hacked. They stored source code on a machine that was reached by the hackers. This is not good practice.
January 26, 2012 4 Comments
If it wasn't for bad luck, Julia Gillard, the Prime Minister of Australia would have no luck at all.
The ABC headline reads: Riot police rescue Gillard, Abbott from protesters, but Gillard didn't need rescuing.
She was at an Australia Day ceremony awarding medals to first responders, when the building was surrounded by protestors. In the rush to evacuate her, she lost a shoe, stumbled, and was caught on film clutching a security officer to regain her footing.
The thing is, the protest had nothing to do with her, or anything she had done.
The leader of the opposition, Tony Abbott, had made an unbelievably stupid [well, stupid for anyone who wasn't Abbott. for Abbott it was SOP] about the 'tent embassy', an Aboriginal protest that has occurred for over a half century on what many Aboriginals call 'Invasion Day'. The protestors were mad at Abbott, who was in the same building.
Security should have hauled Abbott out [or just handed him over to the protestors 😈 ] and Ms Gillard could have gone about whatever she does as PM. Most of the photos of the incident are cropped so you don't see Abbott who was just behind Gillard when she stumbled [or was tripped … no, he's not that talented].
It's not that there is no reason to protest the actions of Ms Gillard's government, there are plenty, but this wasn't one of them.
January 26, 2012 2 Comments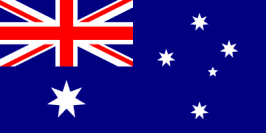 The anniversary of the landing of the First Fleet under Captain Arthur Phillip at Port Jackson in New South Wales on January 26th, 1788.
Here's the official site, and more information at Wikipedia.
It is going to be a very soggy celebration in New South Wales and Queensland – another heavy rain and flooding pattern has set in.
January 26, 2012 2 Comments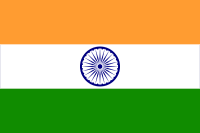 Celebrates the establishment of the Republic of India on January 26th, 1950 when its new Constitution took effect.
The parade at New Delhi is, bar none, the most colorful military parade in the world.
Here's the official site, and, as the Wikipedia entry is really pathetic, here is a tourist site with more information.
January 26, 2012 4 Comments