This was the weather statement for the area around the Mile 101 checkpoint for today:
The Winter Weather Advisory is now in effect until 6 am akst
Saturday.

* Location… Steese Highway summits.

* Winds… southwest gusting to 40 mph.

* Wind chills… 50 below.

* Visibility… near zero in blowing snow.

* Snow… several inches accumulation.
Fortunately things will calm down before tomorrow. Oh, the checkpoint is at the mile 101 marker on the Steese Highway between those summits.
There will be new snow for the start, which is not a given in Alaska. It doesn't really snow all that much during the winter … it is too cold.
The MSNBC link to a decade long study on the physiology of sled dogs is still good, and a useful primer for anyone new to the sport.
February 3, 2012 Comments Off on One More Day
You Called?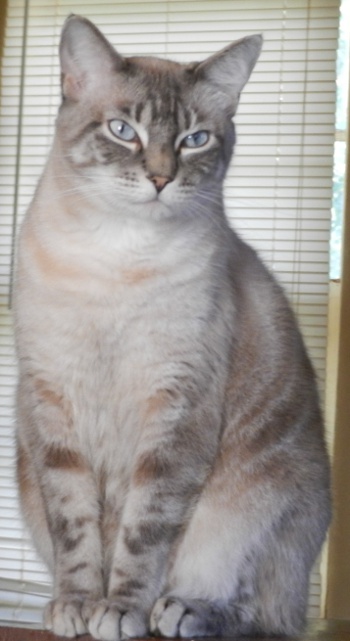 When's dinner?
[Editor: Excise [X-Size needs to do some Xercise] decided to pose at the best possible time at the best possible place just as I was taking the camera out for a feral cat picture hunt during the early afternoon.
In Memoriam
Rook had to say goodbye to his brown tabby, Quiz, this week.
February 3, 2012 8 Comments