Well, if you believe that Tornado Watches, Severe Thunderstorm Warnings, and Beach Flooding Advisories are normal.
The cold front that caused all of this finally cleared out at about 11:45PM, and I was not using the computer a great deal during the day, even when I was at home because of the thunderstorms. Let me just say you didn't need special bulbs or controllers to have blinking Christmas lights around here.
There were reports of tornadoes in Alabama. Mobile was definite with multiple people taking and posting videos of the tornado there. Later this morning it will snow across the northern portions of Mississippi, and possibly Alabama as the cold air behind the front moves in. It was in the 70s locally during the day, but the temperature will drop over night.
Other than the weather it was a quiet Christmas that resulted in the accumulation of cookies and candy and fruit, as it finally sunk in that some people are not kidding when they say they have too much stuff, and ask people not to send them more. Slowly I hope to convince people that it is better if they send stuff to people who don't have it and need it when they feel obligated to buy something, although cookies are always appreciated.
December 26, 2012 2 Comments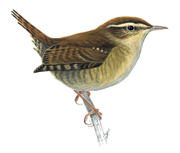 Time again for my annual rant about a Christmas carol.
While December 26th is celebrated by a lot of people in the US in shopping malls returning gifts or taking advantage of inventory clearance sales, there are other celebrations.
It is the first day of the Kwanzaa celebration, which is explained at the link.
It is Boxing Day, a celebration of noblisse oblige when the upper classes bestow gifts on the lower and the contents of the poor boxes are distributed. Under the feudal system this was part of the "contract," the mutual system of obligations that tied the system together.
As the feast of St. Stephen it honors the first Christian martyr, but Ireland's Saint Stephen's Day celebration is a bit different and is the reason for the wren on this post.
However, this post is really my complaint about "Good King Whatshisface."
December 26, 2012 2 Comments