At the last minute the GOP leaders in the House decided not to go over the cliff and allowed a vote on the piece of garbage that the Senate proposed and passed in the early hours of today. This is a win for people on the Federal unemployment compensation, but almost no one else.
In the Senate vote Florida's junior Senator, Marco Rubio, made sure that everyone knew he voted against it, and the talking heads started chirping about his running for President in 2016. It doesn't occur to them that he will be up for re-election to the Senate in 2016 and is avoiding a primary challenge from the right with this move. Even if he runs for President, he will want to run for re-election as a back-up plan. The last thing he wants to do is to try to find a job in the civilian sector.
All they did was kick the cuts down the road two months, so they can use the debt limit to screw people, and everyone paying attention knows it.
Congress doesn't work. Milk prices will probably double because Congress hasn't passed a farm bill. They have the power to make all of the cuts they want in budget process, but they aren't passing the appropriations bills – they just keep extending the current spending. If you want to see a real bunch of 'moochers' just look at the House Republican caucus.
Update: Apparently the Senate bill included an extension of the current farm bill, but there were no provisions for the states that were impacted by Hurricane Sandy.
On the 150th anniversary of the first Republican President, Abraham Lincoln. signing the Emancipation Proclamation you have a prime example of how far his party has sunk.
January 1, 2013 3 Comments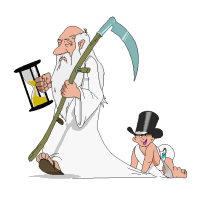 С Новым годом
Prosit Neujahr
Feliz Año Nuevo
Bonne Année
Felice Anno Nuovo
Gelukkig Nieuwjaar
Gott Nytt År
Sehe Bokmanee Bateuseyo
Blwyddyn Newydd Dda
Onnellista Uutta Vuotta
May you be safe from the idiots who think gravity is just a theory and fire off guns, failing to understand that what goes up will come down.
Given the prevalence of accurate timekeeping devices, it is amazing that the explosions that are supposed to signal the new year extend for a four hour period beginning before and extending well after the actual event. Anyone who thinks alcohol and gunpowder is a recipe for a long life should be avoided by insurance agents.
The new year brings new opportunities, so here's hoping that the good wins out and the world is made a little better.
Oh, and a happy 12th blogiversary™ to Steve Bates at the Yellow Doggerel Something. He may be 'imprisoned' in the health care system and forced to use texting to communicate, but he keeps posting.
January 1, 2013 2 Comments