Badtux notes that the LAPD needs remedial vehicle identification classes. I noticed elsewhere that LA is buying the lady a new truck, and I assume that all of the medical bills will be covered by the city, but they can't let the officers involved stay on the force, or they will be bankrupted by the court settlement that every lawyer in California wants to file on behalf of the victim. The city should also be offering the victims "pain and suffering" cash now, because they do not want to go to court with this. Hell, the newspaper may sue them before this is over [this is California, after all.] [And people wonder why OJ Simpson got off…]
PZ Myers notes that Fox News 'experts' think that Germany gets more sun than the US. As the graphic shows, Germany doesn't get as much sun as Alaska, but it gets a huge amount of electricity from solar panels. Munich, in southern Germany is on the same parallel of latitude as the US-Canada border West of the Great Lakes.
The thing is – Germans buy homes, but Americans invest in real estate. When a German gets it all together to buy a home, they intend it to be 'until death do us part'. They install solar panels and other energy efficient improvements because they will be the ones saving money on their utility bills. Americans are constantly looking at resale value, not cost of ownership. Germany leads the US based on the huge number of installed solar panels, not the amount of sun they receive.
The house I'm working on is getting done. I would already be done if I didn't get pulled into things that have nothing to do with the electrical and plumbing repairs I agreed to do.
February 10, 2013 13 Comments


Misha Pedersen (16) has had leadership problems on her team which led to the very slow run into Dawson. She headed out last night, but had to come back and scratch because the team wouldn't move into the wind on the Yukon River. Despite the common perception of dogs sticking their heads out of car windows to get the wind in their face, sled dogs generally don't like it for very real survival reasons. Weather leaders, dogs that will head into the wind and convince the rest of the pack to follow, are very rare, and Misha doesn't have one.
Dyan is out on the river heading to Eagle alone, and I wish her well. The Quest officials will be watching her because she's a rookie and the weather is not good. They want to give her a chance, but they are concerned about her team.
Update: Dyan is making good progress on the trail, while at the front Allen and Hugh are basically running side-by-side as they climb Rosebud.
Update: Dyan made it into Eagle, while Allen and Hugh are sitting in Two Rivers/Chena Hot Spring for an 8-hour mandatory stop. Allen has a 16 minute lead for the 45 mile sprint to Fairbanks.
The winner should be known tomorrow morning, but I hang around until the Red Lantern is extinguished.
The Standings at 11:00PM CST (8:00PM AKST):
At Chena Hot Springs/Two Rivers
1 Allen Moore (11)
2 Hugh Neff (4)
Beyond Mile 101
3 Brent Sass (18)
4 Jake Berkowitz (20)
Beyond Central
5 Scott Smith (23)R
Beyond Circle
6 Markus Ingebretsen (2)R
7 Normand Casavant (7)
8 Abbie West (17)
9 Dan Kaduce (15)
10 Susan Rogan (10)R
At Circle
11 David Dalton (21)
12 Ed Hopkins (25)
13 Brian Wilmshurst (1)
14 Crispin Studer (26)
Beyond Eagle
15 Denis Tremblay (13)R
16 Darrin Lee (24)R
17 Cody Strathe (5)R
18 Rob Cooke (3)R
19 Matthew Failor (14)R
At Eagle
20 Dyan Bergen (19)R
These are the official standings. That means they are official, not that they are correct. Things jump around a lot as people decide to update the standings. This problem is especially bad in the back of the pack, as no one bothers to update those standings when the lead is changing.
The Mushers in bold are former winners of the Yukon Quest, the numbers in parentheses are their Bib numbers, and the small "R" indicates a rookie.
Note: This post will be updated during the day, and the map changed on all posts to reflect the current situation.
All posts on the Yukon Quest can be seen by selecting "Yukon Quest" from the Category box on the right sidebar.
February 10, 2013 Comments Off on Yukon Quest 2013 – Day 9
Year of the Black Water Snake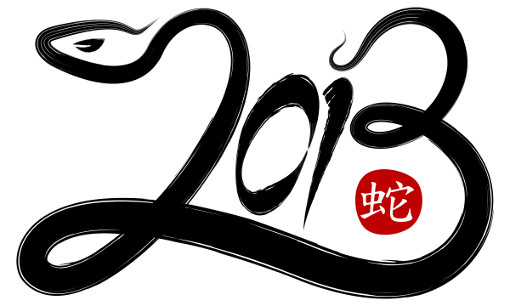 Chinese New Year
[Spring Festival]
February 10, 2013 2 Comments