Dyan is at Slavin's resting with the Red Lantern. She is moving at almost 7 mph when she is on the trail, but she is definitely traveling alone with the puppies.
Because of the snow and the wind, it is important to stay on the trail. Jake got off the trail going up Eagle Summit and was mired in waist-high loose snow. The trail is packed and well above ground level, so if you miss a turn it will be a hard slog to get the team and the sled back on it after you find it under the surface snow.
Update: Denis Tremblay (13) got dinged with a two hour penalty to be served at Two Rivers for failing to leave the required 4 pounds of food with the dog he dropped at Slavens Cabin.
The Standings at 11:30PM CST (8:30PM AKST):
At Fairbanks/Finish
1 Allen Moore (11)
2 Hugh Neff (4)
3 Brent Sass (18)
4 Jake Berkowitz (20)
5 Scott Smith (23)R
6 Markus Ingebretsen (2)R
7 Normand Casavant (7)
8 Abbie West (17)
Beyond Chena Hot Springs/Two Rivers
9 Susan Rogan (10)R
10 Dan Kaduce (15)
At Chena Hot Springs/Two Rivers
11 Ed Hopkins (25)
12 David Dalton (21)
13 Crispin Studer (26)
14 Denis Tremblay (13)R
Beyond Mile 101
15 Cody Strathe (5)R
16 Darrin Lee (24)R
17 Brian Wilmshurst (1)
Beyond Central
18 Rob Cooke (3)R
Beyond Circle
19 Matthew Failor (14)R
At Circle
20 Dyan Bergen (19)RΦ
These are the official standings. That means they are official, not that they are correct. Things jump around a lot as people decide to update the standings. This problem is especially bad in the back of the pack, as no one bothers to update those standings when the lead is changing.
The Mushers in bold are former winners of the Yukon Quest, the numbers in parentheses are their Bib numbers, and the small "R" indicates a rookie.
Note: This post will be updated during the day, and the map changed on all posts to reflect the current situation.
All posts on the Yukon Quest can be seen by selecting "Yukon Quest" from the Category box on the right sidebar.
February 12, 2013 Comments Off on Yukon Quest 2013 – Day 11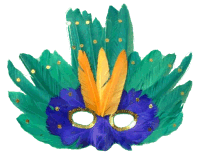 The last day before the beginning of Lent on the Gulf Coast that once belonged to France, it is Mardi Gras, "Fat Tuesday": Laissez les bon temps rouler!
It was first celebrated in Mobile, Alabama, but the big show these days is in New Orleans, and it is a holiday in the state of Louisiana, because people wouldn't show up for work anyway, so why fight it.
The tradition is to serve King cake, which is a circle of cinnamon bun dough with a white frosting on top sprinkled with sugar colored purple, gold, and green. If that weren't bad enough, they put the figurine of a baby in the dough, and whoever finds it in their piece is supposed to be lucky. Actually if you find it and don't choke on it, I guess you are lucky. You should use a small ceramic figurine, as some of the cheap plastic versions melt in the oven [yummy].
This year it falls on the birthday of Charles Darwin and Abraham Lincoln. Abe would have enjoyed it more than Chuck, who was a bit conventional, despite the propaganda about him.
February 12, 2013 Comments Off on Shrove Tuesday