Happy Hanukkah to my Jewish friends. I miss the latkes and jelly doughnuts my roommates received for the holiday at college. [Their grandmothers were afraid they wouldn't celebrate or couldn't get "real" food at that terrible Baptist university.] It was a great break.
One of the nice things about Hanukkah is that there are established "gifts", so you don't have to rack your brains about what to get: a card and gelt covers just about everyone.
General background at Wikipedia's entry for Hanukkah and even more at Chabad's Chanukah page.
[Note: on the Jewish calendar the day changes at sundown, not midnight.]
December 6, 2015 Comments Off on Happy Hanukkah!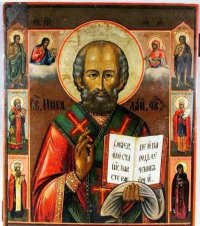 Yes, it is the day that kindly old Saint Nicholas fills the footware of good little girls and boys with treats [or his assistants beat the evil out of bad children, depending on the local customs – they didn't just leave the sticks – in some places they use them.] Don't forget the carrot if he rides a horse in your area.
He is the patron saint of Russian merchants and pawnbrokers (three gold balls are one of the symbols associated with him).
December 6, 2015 Comments Off on Feast Of Saint Nicholas