Over 100 homes were lost to a bushfire along the Great Ocean Road in Victoria, Australia.
Over a 1,000 acres burned in a wildfire started by a downed power line in Ventura County, California.
UK military forces were dispatched to help with flooding in northern England.
A series of tornadoes and flooding from Texas to Illinois has claimed over two dozen lives since Christmas Eve.
The backside of the front that caused the tornadoes and record-breaking heat to is now pulling in blizzard conditions to West Texas and the Plains.
Of course there are still people who claim that climate change isn't real …
December 27, 2015 6 Comments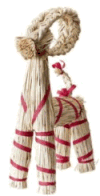 The Goat succumbed to arsonists Sunday morning [local time], but at least he made it until Christmas this year.
December 27, 2015 Comments Off on Roast Goat