Posts from —
February 2017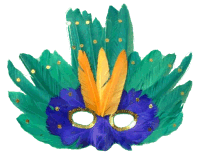 The last day before the beginning of Lent on the Gulf Coast that once belonged to France, it is Mardi Gras, "Fat Tuesday": Laissez les bon temps rouler!
It was first celebrated in Mobile, Alabama, but the big show these days is in New Orleans, and it is a holiday in the state of Louisiana, because people wouldn't show up for work anyway, so why fight it.
The tradition is to serve King cake, which is a circle of cinnamon bun dough with a white frosting on top sprinkled with sugar colored purple, gold, and green. If that weren't bad enough, they put the figurine of a baby in the dough, and whoever finds it in their piece is supposed to be lucky. Actually if you find it and don't choke on it, I guess you are lucky. You should use a small ceramic figurine, as some of the cheap plastic versions melt in the oven [yummy].
February 28, 2017 Comments Off on Shrove Tuesday
Arthur Frommer, the man behind Frommer's Guides, blogs the news: The Travel Press is Reporting the 'Trump Slump,' a Devastating Drop in Tourism to the United States
As far as travel by distinct religious groups, flight passengers from the seven Muslim-majority nations named by Trump were down by 80% in the last week of January and first week of February, according to Forward Keys, a well-known firm of travel statisticians. On the web, flight searches for trips heading to the U.S. out of all international locations was recently down by 17%.

A drop of that magnitude, if continued, would reduce the value of foreign travel within the U.S. by billions of dollars. And the number of jobs supported by foreign tourists and their expenditures in the United States—and thus lost—would easily exceed hundreds of thousands of workers in hotels, restaurants, transportation, stores, tour operations, travel agencies, and the like.
It was bad enough when an oil company decided to destroy my local economy with an oil leak caused by their reckless behavior, but now we have the SCROTUS, an individual who makes his money from hotels and golf courses, destroying tourism with his misguided policies. How much is he prepared to lose?
February 27, 2017 18 Comments
Welcome to the New Trumped Amerika. Now let's see if we can find a reason not to allow you to stay…
I would hate to come back to the US these days, as I did from Germany in the 1970s. My tourist passport was a bit dodgy, and my red 'official duty" passport definitely belonged in the 'Fiction' section. They only came out if someone wouldn't accept NATO orders and my military ID which wasn't supposed to happen, but did. Many of my visas didn't match, i.e. I would have an entry visa and no exit stamp, or vice versa. There were perfectly valid, and non-spook reasons for what was in that tourist passport, usually related to taking leave after arrival by military transport and having to use commercial transportation to return to my base. Almost all of my 'documents' raised questions'.
These days even if you are a natural born US citizen and share the name of your famous father, you are subjected to interrogation: Muhammad Ali Jr., detained at Florida airport, asked, 'Are you Muslim?'.
You can be a well-known academic invited to participate in a conference and they will attempt to reject you: French historian Henry Rousso nearly deported from US.
Apparently even 70-year-old children's authors are suspect: Australian author, Mem Fox, was detained at the Los Angeles airport. It would appear that her latest book advocating getting along with people is too subversive for US officials.
In his definitive work on Vichy France Rousso uses the phrase: passé qui ne passe pas ("past that doesn't pass"). That is also an apt description of the American Civil War, or the Third Reich in Germany. While most people would like to forget these eras, it is the losers who keep resurrecting them. The one bright spot is that sooner or later the revisionists commit another Pickett's Charge or Operation Barbarossa, because they refuse to learn the lessons of history…
February 26, 2017 3 Comments

That's the flag of Russia. According to Rawstory there were a lot of them at CPAC when SCROTUS poured out his usual collection of disconnected thoughts.
Ali Rogin of ABC News has a picture of a larger version with Trump stamped on it in gold letters.
I don't think 'conservatives' [or whatever the people who attend CPAC call themselves] approve of being buddies with Vlad.
For your store of Trivia: The flag of Russia is the flag of the Netherlands with the red stripe moved to the bottom: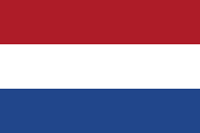 When Peter the Great had his first group of ships built in the Netherlands in the late 1600s he was told he needed a flag, so he used existing flags of the Netherlands and had them modified. The naval ensign is white with a blue saltire cross [X-shaped] [Cross of St Andrew], so the tricolor flags were initially for merchant ships.
February 24, 2017 3 Comments
Leviticus 19:33-34 KJV
33 And if a stranger sojourn with thee in your land, ye shall not vex him.
34 But the stranger that dwelleth with you shall be unto you as one born among you, and thou shalt love him as thyself; for ye were strangers in the land of Egypt: I am the Lord your God.
The Guardian reports that Trump officials are saying that Immigration will not be the focus during the visit to Mexico by the new head of the Department of Homeland Security and the new Secretary of State.
That might be related to the fact that Mexico's Foreign Minister is annoyed with the US: Mexico's foreign secretary rejects Trump deportation policy
Mexico has condemned new guidelines issued by the United States on deporting undocumented immigrants.

Under plans unveiled by the Trump administration on Tuesday, almost all people staying in the US illegally can be subject to deportation.

Mexican Foreign Minister Luis Videgaray said his country could not "accept unilateral decisions imposed by one government on another."
Mad Kane responds to a Washington Post article on Trump's lies with: Trump's Record of Deception (Limerick)
There is a lot of ink among Torah/Old Testament scholars about the reason Sodom & Gomorrah got removed from the map. The thing the two cities had in common was their mistreatment of foreigners, not all of the sex of Sodom that most preachers prefer to discuss. The Secret Service might want to be sure that Drumpf is well grounded electrically if he is going to talk trash about immigrants. We have a lot of lightning in Florida.
February 22, 2017 Comments Off on Shallow Thoughts As The Water Recedes
I didn't get the Internet back until 3PM CST yesterday, which was annoying, but I had some handyman stuff to keep me busy. The annoying part is that they charge me whether I have access or not.
Badtux points out that entering the US without all of the proper paperwork is not a crime. It is a violation of rules, and will remain that way unless some ignorant Congresscritters make it a crime which will cost the Federal government billions of dollars every year. If undocumented aliens are picked up, they aren't charged with a crime, they have, at most, a hearing before an administrative judge, and are sent back to their country of origin. Badtux provides chapter and verse of the US Code.
The fact that it isn't a crime is why local law enforcement is unhappy with helping the Feds. First off, local law enforcement is not authorized to enforce Federal regulations. State laws don't allow you to hold people in jail for unlimited periods. You have to charge people or release them within a given time period. If they are charged with a violation of state law they are entitled to an attorney and a bail hearing. If they can make bail. you have to release them. The Feds want you to hold people until they get around to dropping by, but they aren't paying the bills, and they aren't facing a lawsuit if the individual actually has all of the paper work.
Working with the Feds is a Win/Lose – the Feds get the money and credit if it's a good bust, but the locals get the blame and the bills if it's a disaster. I had a budget when I was in law enforcement, and I had enough problems protecting it from interdepartmental raids, I sure as hell wasn't interested in wasting anything on the Feds. If they wanted to pony up more cash, then we could have talked, but if they did, local politicians would have cut their share so they could cut taxes. That was the way things worked during Reagan – no reduction in requirements, just shifting funding responsibilities to another layer of government.
February 21, 2017 51 Comments

Did you know that the official Twitter account of Sweden is curated by a different Swedish citizen every week? The curators are nominated and then contacted to see if they want to do it. This is the last night for a school librarian named Emma who has been dealing with a flood of tweets due to SCROTUS repeating fake news from Faux News at his campaign rally/one-man show staged at taxpayer expense in Florida.
Sweden to Trump: What happened last night?
The hashtag #lastnightinSweden was soon trending on Twitter, and the Swedish embassy in Washington has asked the State Department for clarification.
···
Some people suggest Donald Trump might have been referring to a clip aired on Fox News on Friday night of a documentary about alleged violence committed by refugees in Sweden.
···

@sweden/Emma: No. Nothing has happened here in Sweden. There has not been any terrorist attacks here. At all. The main news right now is about Melfest.
Because she is a librarian, she was provoked into sending @realDonaldTrump a 'shhhhhh' tweet. Former Swedish Prime Minister Carl Bildt wondered "what has he been smoking?"
Melfest, a shortened version of Melody Festival, is the system used by Sweden to select their candidate for the Eurovision Song Contest, which they take seriously.
You should scan the stream as Emma becomes a media celebrity with radio and TV interviews all day along with keeping up with Twitter and a small child.
You can hear Emma Johansson's interview on the BBC Newshour.
Update via Kryten in comments, The Brisbane Times: The Swedish terror that only Donald Trump was brave enough to call out. This includes the important "humiliating tragedy for the proud bull moose of Skellefteå" that I was unable to verify in my post…
February 19, 2017 11 Comments
Yesterday I encountered a new word, adumbrate, while reading this article about the Yukon Quest. When you have been reading for almost seven decades, new words that aren't neologisms or field specific jargon are a rare thing. This is a useful word right at this moment in this space-time continuum.
The Cambridge Dictionary provides both British and US pronunciations and defines the transitive verb as:
to give only the main facts and not the details about something, especially something that will happen in the future:
The project's objectives were adumbrated in the report.
This what Trump does: he adumbrates his announcements and never adds any details. He uses stream of consciousness rambling to provide the capitalized Roman numerals of an outline, but never bothers to add any specificity.
Look at his Muslim Ban 1.0 – utter chaos because there were no specifics about people with visas or green cards, or any other guidance.
Look at his speeches – there is no logic. If he has anything on the Teleprompter it certainly isn't obvious.
Schoolhouse Rock and Ryan should send an aide with a copy of the course work for new Congresscritters over to the White House. He needs a refresher course on the American government, the course he got in New York during high school.
February 18, 2017 Comments Off on New Word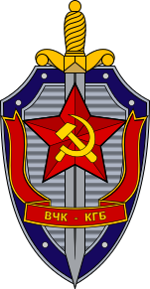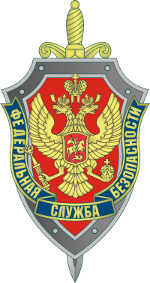 The 'honeymoon' is over for Drumpf in Russia. It's not just CNN giving him 'a hard time', Young Communists Truth is bad-mouthing him.
The BBC notes that Russian media is no longer dazzled by Trump:
On Friday, Russia's most popular tabloid, Komsomolskaya Pravda, accused President Trump of making "contradictory" statements about NATO.

The paper points out: "(During the election campaign) Trump had called the Alliance obsolete and useless. Less than two months have passed since he moved into the Oval Office and he's already expressed full support for NATO.

"As the saying goes, you need to be drunk to understand the true position of America's president."
If anyone thinks that they would have printed that without the approval of Vladimir Vladimirovich, they haven't been paying attention to the current government of Russia.
Drumpf doesn't really want to be President, he wants to be 'a star'. He isn't interested in working, only in receiving applause.If his father had given him guitar lessons and a Stratocaster when he was nine, he might even be a happy man, touring as the opening act for the Rolling Stones instead of putting up tacky hotels, and pretending he knows how to manage anything.
February 17, 2017 2 Comments


Sébastien brought in La Lanterne Rouge (Φ) at 4:29AM CST (1:29AM AKST) after losing the trail between Two Rivers and Fairbanks. Ben Good pushed and took advantage of Sébastien's wrong turn to hand off the Red Lantern.
Hugh picked up the Dawson money because Brent didn't finish, and Katherine took Rookie honors.
Fairbanks Finish
1 Matt Hall (20)
2 Hugh Neff (9)
3 Allen Moore (8)
4 Paige Drobny (7)
5 Ed Hopkins (18)
6 Torsten Kohnert (21)
7 Katherine Keith (19)R
8 Jessie Royer (1)R
9 Ryne Olson (15)
10 Dave Dalton (13)
11 Rob Cooke (4)
12 Brian Wilmshurst (16)
13 Ben Good (3)R
14 Sébastien Dos Santos Borges (5)RΦ
[Read more →]
February 17, 2017 4 Comments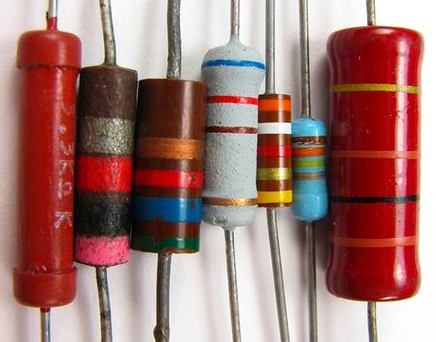 Trump Whine is the only 'product' that should thrive during the current aberration in American life.
When is the SCROTUS [So-Called Ruler of the US] going to do something about toddlers with guns who killed more Americans than terrorists in 2015? While he's mucking about with Muslim bans and annoying travelers at airports, women and children are dying at the tiny grubby hands of three-year-olds with Glocks.
The US Treasury sanctions against Syria caused PayPal to suspend the account of a Canadian newspaper that was trying to enter a story about Syrian refugees in a press competition.
As someone who lives in an area dependent on tourists, this kind of screwing around really damages our economy. Between the changes that the Shrubbery imposed after 9/11 and the effects of the BP oil spill in the Gulf, we really don't need any more security theater to make people decide that Mexico offers similar beaches and views without all of the aggravation.
February 16, 2017 Comments Off on Vive La Resistance


Dave at the front and Ben at the back are the only ones moving at the moment. Ben should get to Two Rivers in about an hour, but Rob Cooke's Siberians can't hit the trail until 11:22AM CST.
The Current Standings at 9:30PM CST ( 7:30AM AKST):
Fairbanks Finish
1 Matt Hall (20)
2 Hugh Neff (9)
3 Allen Moore (8)
4 Paige Drobny (7)
5 Ed Hopkins (18)
6 Torsten Kohnert (21)
7 Katherine Keith (19)R
8 Jessie Royer (1)R
9 Ryne Olson (15)
10 Dave Dalton (13)
11 Rob Cooke (4)
Beyond Two Rivers
12 Brian Wilmshurst (16)
13 Sébastien Dos Santos Borges (5)R
14 Ben Good (3)RΦ
[Read more →]
February 16, 2017 Comments Off on Yukon Quest 2017 – Day 13


Barring the unforeseen, this looks like the finishing order. Katherine Keith of Kotzebue will win the rookie honors.
Gaetan Pierrard (10) scratched at Central. He left and then returned to scratch.
The Current Standings at 10:00PM CST ( 7:00PM AKST):
Fairbanks Finish
1 Matt Hall (20)
2 Hugh Neff (9)
3 Allen Moore (8)
4 Paige Drobny (7)
5 Ed Hopkins (18)
6 Torsten Kohnert (21)
7 Katherine Keith (19)R
8 Jessie Royer (1)R
Beyond Two Rivers
9 Ryne Olson (15)
At Two Rivers
10 Dave Dalton (13)
Beyond Mile 101
11 Rob Cooke (4)
12 Brian Wilmshurst (16)
13 Sébastien Dos Santos Borges (5)R
14 Ben Good (3)R
[Read more →]
February 15, 2017 4 Comments
The Russian Embassy in Washington rivals the US Embassy in Moscow as the most bugged location in the world. As a former Director of the Defense Intelligence Agency, Michael Flynn had to know it – it was one of his targets. If he and the Russian ambassador used burner phones, it just means that their conversations would have been initially intercepted by the DEA before being highlighted for the FBI. The man is an incompetent if he can't deal with the most basic level of spycraft.
At this point, it is time to look a bit closer at Rex Tillerson, another
Cabinet-level 'fan' of Russia. How many Cabinet picks did Putin get?
February 14, 2017 50 Comments