Crooks & Liars features a faux pas by the British PM: 'We Want To Lead The World In Preventing Tourism'. Surely Ms May realizes that Britain can never catch up the lead created by Trump in his War on Tourism™
The BBC reports that Russian hackers 'target' presidential candidate Macron. These are the same groups that targeted the DNC during the US election. Mr Macron's opponent has had nice things to say about Russian President Putin, but it cannot be proved beyond any doubt that not praising Putin results in being hacked. 😈
For her part, Le Pen steps aside as National Front leader:
Far-right French presidential candidate Marine Le Pen has announced that she is stepping aside as leader of her National Front (FN) party.

The move comes just a day after she reached the second round of the French election, where she will face centrist Emmanuel Macron.

Ms Le Pen told French TV she needed to be above partisan considerations.
The voters will accept that by resigning as party leader she won't be attempting to implement the core policies of the National Front if she wins. [At this point in a Monte Python skit there will be a wink and a nod.]
April 25, 2017 2 Comments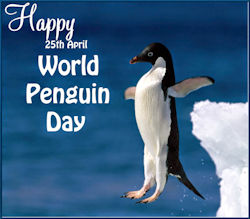 Badtux, of course, informed me that today is World Penguin Day.
The Guardian has a nice pictorial while EarthSky.org leans toward facts and text.
April 25, 2017 4 Comments