The ABC has a short background piece on Qatar: What caused the crisis and how is Donald Trump involved?
CNN reports Trump is trying to get in line with his own Secretaries of State and Defense.
Meanwhile there are the Iran attacks: Twin assaults on parliament and shrine rock Tehran
Tehran, Iran (CNN)- Attackers have mounted simultaneous gun and suicide bomb assaults on Iran's parliament building and the tomb of the republic's revolutionary founder, in one of the most audacious assaults to hit Tehran in decades.

At least 12 people were killed and dozens more injured in the twin assaults on the Iranian capital, state media reported. A third attack was foiled, Iran's Intelligence.
And Trump can't even send a "sympathy card" without triggering an international incident:Iran FM Zarif slams 'repugnant' Trump statement on Tehran attacks
Iran's foreign minister has denounced as "repugnant" a White House statement on Wednesday's terror attack in Tehran that said Iran was a "terror sponsor".

President Trump had said he was praying for the victims, but added that "states that sponsor terrorism risk falling victim to the evil they promote".

But Javad Zarif said Iran "rejected such claims of friendship" and claimed the attackers from so-called Islamic State had been "backed by US clients".

Thirteen people died in the attacks.
He refuses to read briefing papers, and doesn't know what his own State and Defense Departments are doing.
June 9, 2017 9 Comments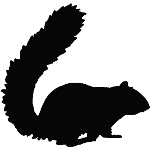 My electrical infrastructure was cut off for over an hour by another kamikaze squirrel attack on a transformer. Basically FLASH! BOOM! and a shower of toasted squirrel bits. Second time in a year.
June 9, 2017 9 Comments