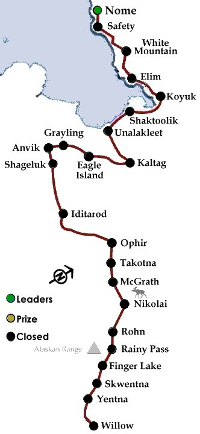 The racing order is starting to sort itself out but you can't be sure of the actual order until after the 24-hour stop when the start differential is adjusted. Aaron Burmeister has made a significant gain of 45 places while Nicolas Petit is up 43. You have to wait.
Zoya DeNure has scratched at Yentna. They don't say why but it is probably a puppy problem. Update: It was her health that was questionable.
Tara Cicatello has been at Skwenta since 8AM CST. I wonder if they missed her leaving or scratching. Her team was moving at a respectable 8mph. This is why I have the notice that the standings are official but may not be accurate.
Standings at 9:30PM CST:
Beyond Rainy Pass
1 Jessie Holmes (41)R
2 Richie Diehl (29)
3 Wade Marrs (11)
4 Ryan Redington (7)
5 Nicolas Petit (46)
6 Ray Redington Jr (17)
7 Mitch Seavey (13)
8 Joar Leifseth Ulsom (33)
9 Jessie Royer (36)
10 Aliy Zirkle (31)
[Read more →]
March 5, 2018 4 Comments