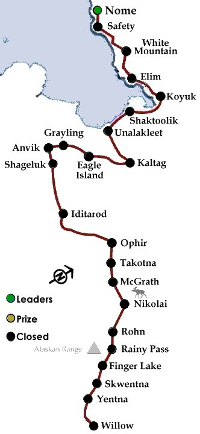 Nicolas Petit is definitely the real leader of the race, but there is a long way to go. Having an hour lead on Mitch Seavey is not anything to make you comfortable.Joar is back on the trail with all 16 puppies rested and ready to race.
Nicholas won first to the Yukon which is a 5 course meal and $3500 in one dollar bills.
Scott White became the third team to scratch. He decided to scratch at Takotna and will run his team back to McGrath to be picked up. He was down to 10 puppies and the trail in front is isolated from civilization.
Standings at 9:30PM CST:
Beyond Grayling
1 Nicolas Petit (46)
At Grayling
2 Mitch Seavey (13)
3 Joar Leifseth Ulsom (33)
Beyond Shageluk
4 Richie Diehl (29)
5 Peter Kaiser (30)
6 Ray Redington Jr (17)
7 Wade Marrs (11)
8 Jessie Royer (36)
9 Linwood Fiedler (8)
10 Aaron Burmeister (64)
[Read more →]
March 9, 2018 2 Comments