The NRA sues as Florida enacts its gun-control law. The NRA claims raising the age to purchase all guns to 21 and imposes a 3 day waiting period for all firearm violated the Constitutional rights of 18 to t0 20-year-olds.
You have had to be 21 and wait to purchase a handgun for years, so this is moving all guns to the same standard. Given that Pam Bondi is the Florida attorney general, the NRA might win at the trial court level but their argument is bogus. Florida isn't the only place you have to be 21, and the biggest retailers are already moving in that direction.
March 10, 2018 Comments Off on The Ink Wasn't Dry
Spring forward, Fall back.
Just to screw up your life, don't forget that Congress has stolen 2:00 to 2:59AM Sunday from you. They should at least have the decency to wait until the equinoxes to do this sort of thing. There's barely enough daylight to do what needs to be done, much less save.
It's a government conspiracy to make you late for church 😈
March 10, 2018 2 Comments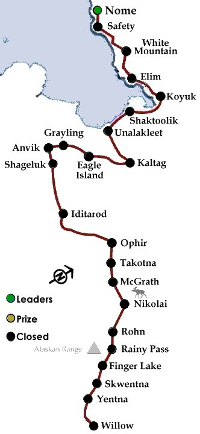 Nicolas has a five hour lead out of Grayling while Mitch and Joar are less than 15 minutes apart.
Because the weather prevented aircraft from landing there the ITC has removed Eagle Island as a checkpoint. It is now a dog drop, but there are no supply drop bags, so Grayling to Kaltag is now the longest run. I guess dropping the supplies at Grayling and ferrying them to Eagle Island was too complicated for the ITC.
Robert Redington scratched at Shageluk "for the good of his team". He was down to 11 puppies after dropping one at Iditarod. His team may have been suffering from the relatively high temperatures [for sled dogs] in the upper 20s.
Standings at 9:30PM CST:
Beyond Grayling
1 Nicolas Petit (46)
2 Mitch Seavey (13)
3 Joar Leifseth Ulsom (33)
4 Ray Redington Jr (17)
5 Peter Kaiser (30)
6 Richie Diehl (29)
7 Aaron Burmeister (64)
8 Travis Beals (60)
9 Wade Marrs (11)
10 Jessie Royer (36)
[Read more →]
March 10, 2018 Comments Off on Iditarod 2018 – Day 7