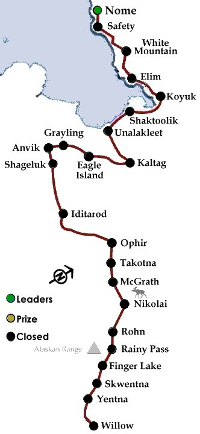 The race is compressed to the Yukon and the coast. Nicolas has a 2½ hour lead on Mitch, so it's down to rest as both teams seem to be maintaining the same approximate speeds.
Ryan Redington scratched at Kaltag, leaving Ray Jr the only Redington left in the race after an earlier scratch by Robert.
Joar pulled it off and took the lead for the moment at 4:30PM CDT.
Standings at 10:00PM CDT:
Beyond Koyuk
1 Joar Leifseth Ulsom (33)
2 Nicolas Petit (46)
At Koyuk
3 Mitch Seavey (13)
Beyond Shaktoolik
4 Peter Kaiser (30)
5 Ray Redington Jr (17)
6 Travis Beals (60)
7 Wade Marrs (11)
8 Ramey Smyth (21)
9 Linwood Fiedler (8)
10 Richie Diehl (29)
[Read more →]
March 12, 2018 8 Comments