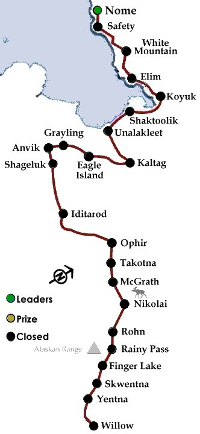 Joar has about about an hour lead over Nicolas. Both of them will be heading for Nome from White Mountain today
Joar's lead is 3:01 leaving Elim, but he will probably need to rest on the trail to White Mountain.
Joar made it to White Mountain just before 11AM CDT and collected the new prize – $2500 and a Marianne Wieland print. He will head to Nome at about 7PM CDT.
Nicolas lost the trail and his lead between Koyuk and Elim and had to backtrack. There is blowing snow on the trail for that stretch.
Joar has a 3½ hour lead over Nicolas and 5 hours over Mitch. 5PM CDT marks 9 days since the start of racing.
Wade Marrs, Tom Schonberger, and Allen Moore all scratched today. It would appear, in the absence of official information beyond "best interests of the team", that the mushers are experiencing health problems.
Standings at 9:15PM CDT:
Beyond White Mountain
1 Joar Leifseth Ulsom (33)
At White Mountain
2 Nicolas Petit (46)
3 Mitch Seavey (13)
4 Ray Redington Jr (17)
Beyond Elim
5 Peter Kaiser (30)
6 Richie Diehl (29)
7 Travis Beals (60)
8 Linwood Fiedler (8)
9 Ramey Smyth (21)
10 Jessie Holmes (41)R
[Read more →]
March 13, 2018 Comments Off on Iditarod 2018 – Day 10