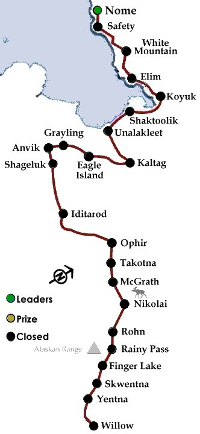 The next 10 finishers showed up overnight and the race has moved to the coast as the Red Lantern left Kaltag.
Rob Cooke gave up his battle with a stomach flu and scratched at Kaltag. He has been fighting it for some time to keep his Siberians on the trail.
Alan Eischens scratched at Koyuk after an arm injury that restricted his ability to care for his team.
Marcelle Fressineau has scratched at Shaktoolik. She left but returned to the checkpoint in the best interests of herself and her team.
Bad News: "At approximately 12:15a.m. today, Blonde, a five-year-old male from the race team of Katherine Keith (bib #51), died at the Koyuk checkpoint. Blonde had been dropped there earlier in the day and was being treated by veterinarians for signs of pneumonia."
Standings at 9:30PM CDT:
Finished at Nome
11 Matt Hall (15)Q
12 Aaron Burmeister (64)
13 Matthew Failor (55)
14 Ketil Reitan (54)
15 Aliy Zirkle (31)
16 Jessie Royer (36)
17 Kelly Maixner (52)
18 Mats Pettersson (3)
19 Michelle Phillips (18)
20 Lars Monsen (61)
21 Hugh Neff (68)
22 Anna Berington (4)
23 Michi Konno (63)R
24 Jeff King (40)
[Read more →]
March 15, 2018 6 Comments