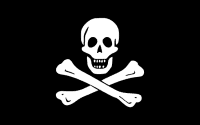 In order to generate "local excitement" [sell stuff] the chamber of commerce is once again annoying people with the Billy Bowlegs Festival. This year the unavoidable part runs from Friday, June 1st and finishes up on Monday. The really obnoxious parade on Monday screws up traffic and sends a lot of noisy people through my neighborhood.
Almost as bad as the parade traffic jam are the Friday fireworks. I know a lot of people enjoy fireworks, but they probably have not seen what loud noises and flashes of light can do to people and aircraft – I am definitely not a fan.
With luck it will rain the rest of the week… 😈
June 1, 2018 Comments Off on Billy Bowlegs Festival
The official start of the hurricane season.
Events:
1495 – Friar John Cor records the first known batch of Scotch whisky.
1660 – Mary Dyer is hanged in Boston, Massachusetts, for defying a law banning Quakers from the colony. She is considered by some to be the last religious martyr in what would become the United States.
1890 – The United States Census Bureau begins using Herman Hollerith's tabulating machine to count census returns.
1967 – The Beatles album Sgt. Pepper's Lonely Hearts Club Band is released.
1980 – The Cable News Network (CNN) begins broadcasting.
Births:
1563 – Robert Cecil, 1st Earl of Salisbury, English statesman and spymaster (d. 1612)
1780 – Carl von Clausewitz, Prussian general (d. 1831)
1804 – Mikhail Glinka, Russian composer (d. 1857)
For some reason, I didn't make the list.
June 1, 2018 4 Comments