I have cataract surgery scheduled this week, so I may be off line a bit.
I wasn't concerned by this, but then I lost my wallet on Wednesday and my printer died today, so the stars aren't really in alignment. All this is not really more than annoying. I can afford the medical care thanks to Medicare, and the printer has worked well for 4 years. I didn't travel two thousand miles to escape an existential threat only to have my children kidnapped by uniformed thugs employed by a supposedly civilized country.
My online time will be limited by putting 4 different eye drops in my eyes: a prednisone, an anti-inflammatory, an anti-fungal agent, and an anti-bacterial agent. The fun bit is that you are awake and get to watch them messing with your eye 😈
July 1, 2018 16 Comments
La fête du
Canada
Day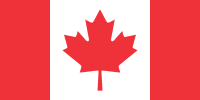 Thank you for not yet building a fence along your southern or western border, and for brewing great beer.
This is the 151st anniversary of the signing of the Constitution Act of 1867.
July 1, 2018 2 Comments