It isn't just my Congresscritter, but my Senators: Wow, Marco Rubio Is Dumb.
Rubio is the Trump lead in Congress on Venezuela. He is English/Spanish bilingual. Germán, a form of Herman, is not an uncommon given name in Latin America. A quick scan by a search engine would have located Senor Dam's Twitter account.
I am truly cursed…
March 10, 2019 Comments Off on I Am Cursed Part II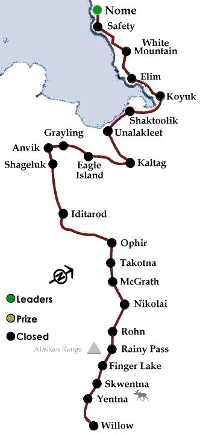 [[!!Don't forget the time change!!]]
Cindy Abbott has scratched at Iditarod. I'm not surprised as she has been taking longer rest stops and slowing. Cindy has climbed Mount Everest and completed the Iditarod. During one race she went 600 miles with a broken pelvis because she lives with the pain of Wegener's Granulomatosis 24/7 and thought the pain was part of her condition. She continues until she doesn't believe she can take adequate care of her team.
Standings at 8:30PM CDT:
Beyond Unalakleet
1 Nicolas Petit (20)
2 Peter Kaiser (9)
3 Joar Leifseth Ulsom (28)
4 Jessie Royer (14)
Beyond Kaltag
5 Mitch Seavey (32)
6 Matt Hall (3)
7 Jessie Holmes (5)
8 Aliy Zirkle (19)
9 Matthew Failor (17)
10 Paige Drobny (40)
11 Ryan Redington (22)
12 Aaron Burmeister (38)
13 Mats Pettersson (4)
14 Travis Beals (51)
15 Richie Diehl (29)
16 Linwood Fiedler (15)
17 Ramey Smyth (6)
[Read more →]
March 10, 2019 Comments Off on Iditarod 2019 – Day 9