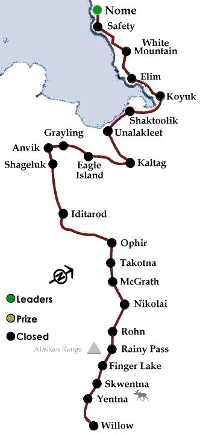 Peter arrived at the Burled Arch at 06:39:06 CDT with a race time of 9 days 12 hours 39 minutes 6 seconds. Joar came in 12 minutes 16 seconds later.
Sebastien Dos Santos Borges (46) scratched at Unalakleet in 'the best interest of his team'.
Blair Braverman's GPS unit hasn't updated for 24 hours and there is no indication that anyone is checking on her.
Standings at 9:45PM CDT:
Finished at Nome
1 Peter Kaiser (9)
2 Joar Leifseth Ulsom (28)
3 Jessie Royer (14)
4 Aliy Zirkle (19)
5 Travis Beals (51)
Beyond Safety
6 Paige Drobny (40)
7 Matt Hall (3)
Beyond White Mountain
8 Ramey Smyth (6)
9 Aaron Burmeister (38)
10 Mitch Seavey (32)
11 Richie Diehl (29)
12 Linwood Fiedler (15)
At White Mountain
13 Jeff King (23)
14 Wade Marrs (36)
15 Jeff Deeter (25)
Beyond Elim
16 Mats Pettersson (4)
17 Kristy Berington (26)
18 Anna Berington (10)
19 Seth Barnes (45)
20 Matthew Failor (17)
21 Aaron Peck (47)
[Read more →]
March 13, 2019 Comments Off on Iditarod 2019 – Day 12