Position: 29.4N 77.6W [10:00PM CDT 0300 UTC].
Movement: Northeast [040°] near 3 mph [ 6 kph].
Maximum sustained winds: 75 mph [120 kph].
Wind Gusts: 90 mph [145 kph].
Tropical Storm Wind Radius: 150 miles [240 km].
Hurricane Wind Radius: 25 miles [ 35 km].
Minimum central pressure: 988 mb ↓.
Currently about 785 miles [1260 km] West of Bermuda.
Here's the link for NOAA's latest satellite images.
[For the latest information click on the storm symbol, or go to the CATEGORIES drop-down box below the CALENDAR and select "Hurricanes" for all of the posts related to storms on this site.]
September 15, 2019 Comments Off on Hurricane Humberto – Day 4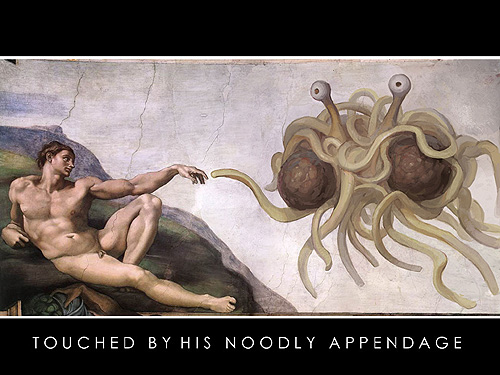 The Day of His Noodly Appendage
The holiest of holidays for Pastafarians, is of course the birthday of His Most Holy Prophet, Marco Polo (b. Sept 15, 1254), who brought the word of his Noodly Appendage back from the East. As Talk Like A Pirate Day falls on September 19th, this five-day period constitutes Holy Pasta Week, during which spaghetti is consumed liberally. With a nice Chianti until the last day when it's grog for all.
September 15, 2019 Comments Off on Holy Pasta Week